Official Finger Lakes Visitors Guide
Hey - you landed on this page and we're super excited to send you some extra information about visiting the Finger Lakes. While we hate to make you do paperwork, the U.S. Postal Service still insists that we put real addresses on envelopes we send out. So, please fill out our order form below and we'll get our latest visitors guide right off to you.
W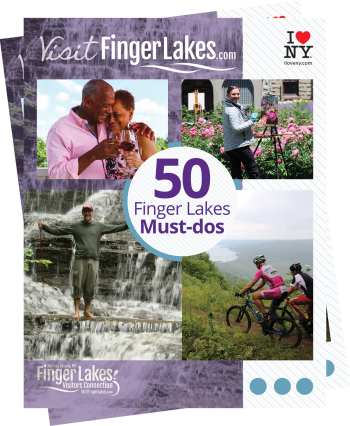 ondering what it'll look like when it arrives? Here's the newest edition of the Ontario County Visitor Guide! 
Can't wait that long? Check out our interactive guide. You can flip through the pages while you're waiting! One other suggestion we have is to check out our blogs - we call them the Insider's Diary. There's a good chance that you'll be wanting to learn more about some of our attractions and the Insiders share their experiences through these blogs. 
Speaking of Insiders - If you're a phone person, give us a call and we'll order that Visitors Guide for you. Here's our number: (877) 386-4669, but remember, we have to rest on occasion too, so you're most likely to reach us between 8:30 am and 4:30 pm Eastern Standard Time.