Farm Stores and Farm Stands
You want fresh, local foods grown in the Finger Lakes? Check into our retail farm stores and roadside farm stands throughout Ontario County. Here you'll find plenty of fresh farm foods, baked goods and other local products. Sample and pick your favorites.
Ever wonder about those apples? We had a little fun with this video.
Red Jacket Orchards' farm store in Geneva sells fruits, ciders, and all kinds of cold-pressed juices.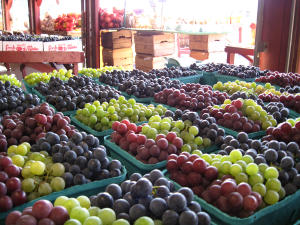 Joseph's Wayside Market, in Naples is one of the favorite farm markets in the heart of wine country. The Apple Farm in Victor sells apples and other farm products, and also has u-pick.
Roadside farm stands are a must-do for our visitors. These range from small shacks in front of farm homes where family members are on call to help you to self-service carts on the side of the road where you put your cash in the coffee can and pick out your field fresh family treats. If you're camping in our area, make sure you get all those fresh veggies to be the envy of all your neighbors.
Our friends at Cornell Cooperative Extension of Ontario County have put together a local food guide that will help you locate farm vendors and markets in our area. You can download the guide here.