The Towns of Hopewell, Seneca and Gorham
The contiguous towns of Hopewell, Seneca and Gorham have much in common in that all three are largely agricultural communities comprised of flat farmscapes and gentle rolling hills where you are likely to count more cows than people, where church suppers are often the best place to dine out on a Friday or Saturday night, and where it's not uncommon to come upon a Mennonite family traveling by horse and buggy.  
Still, Hopewell, Seneca and Gorham are different enough that each deserves its own profile. To read about Seneca, click here. To read about Gorham, click here. To read about Hopewell, continue on.
Town of Hopewell
At first glance, the Town of Hopewell seems like a sleepy little place, particularly the northern section. There are probably more cows than people, there are certainly more farms than shopping plazas, and because many residents who live there have a Canandaigua mailing address, people sometimes refer to Hopewell as Canandaigua. 
(One cherished institution that won't relinquish the name is the Hopewell Grange, one of the country's few active granges that hosts square dances, chicken dinners and other community events.)  
But in the southern part of town, Hopewell is hopping, and there are larger pockets of population that are bustling with activities surrounding education, the arts and shopping.  
Finger Lakes Community College, with a student population of about 6,700 full- and part-time students, has its 250-acre main campus in Hopewell. FLCC's next-door neighbor is Constellation Brands-Marvin Sands Performing Arts Center (CMAC), a sizeable outdoor concert venue that hosts national musical acts such as Bob Dylan and Snoop Dogg and is a summer home to the Rochester Philharmonic Orchestra.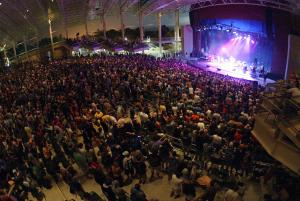 One of the most popular Finger Lakes summer events is the New York State Pageant of Steam, held every August in Hopewell.  You'll find displays and exhibits, a craft and flea market, and perhaps the most popular of all are the Tractor Pulls, enjoyed by kids, moms and dads, and grandma and grandpas—come to hoot and whistle for your favorite tractor! 
The retail corridor along State Routes 5 and 20 includes chain stores such as Walmart Supercenter and Runnings, as well as independently owned businesses such as Roseland Bowl & Family Fun Center, an indoor entertainment center that includes bowling, laser tag and bumper cars, Naked Dove Brewing Co., the vintage-style Miami Motel, and Black Buggy Foods, a grocery store and with a Mennonite/Amish theme.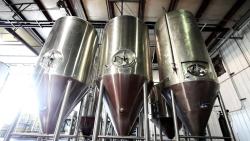 The hamlets in Hopewell include Hopewell Center, Aloquin and Littleville, where Oliver Phelps built a grist mill in 1791.
Fast Facts
History
Decades before the Phelps & Gorham Purchase brought settlers from New England to the area, Hopewell was the site of a Seneca village called Onnaghee. Originally part of the town of Gorham, the town of Hopewell became its own entity in 1822. 
Population
3,747 (2010 Census)
Size
35.7 square miles (including .04 square miles of water)
Location
Hopewell is east of the city of Canandaigua, in Ontario County's north-central section, not far from the northeast corner of Canandaigua Lake. Major roadways include Routes 5 and 20, which runs east-west, Route 21 and Route 488. 
Terrain
Hopewell is mostly flat.The Canandaigua Lake Outlet runs through the northwest corner. 
Key Industries
Education: Finger Lakes Community College has its main campus on 250 acres in Hopewell and is the town's largest employer.
Entertainment: CMAC, or the Constellation Brands-Marvin Sands Performing Arts Center, has 5,000 covered seats and lawn seating for 10,000. It brings in nationally renowned acts during the summer concert season. It is part of the FLCC campus.
Government: Ontario County has a government office complex in Hopewell where many of its service agencies are headquartered. 
Farming: Dairy, cabbage, field crops and supporting agricultural businesses are in the town. 
Education
Students in Hopewell go to a variety of school districts: Canandaigua City School District, Manchester-Shortsville Central School District, Marcus Whitman Central School and Phelps-Clifton Springs Central School District.
Key Landmarks and Attractions
Hopewell Grange: This historic grange, in the hamlet of Hopewell Center, is a popular place for chicken dinners, community square dancing and other activities. 
Naked Dove Brewing Company: This brewery's tasting room is a popular stop during happy hour, or any time you want to taste local beer. 
CMAC: Also called the Constellation Brands-Marvin Sands Performing Arts Center, this ampitheater is part of Finger Lakes Community College and brings in national acts during the summer concert season. It also hosts concerts by the Rochester Philharmonic Orchestra.
Miami Motel: This motor lodge has been renovated to boast mid-20th century aesthetics with 21st century comfort and convenience. 
Roseland Bowl Family Fun Center: Bowling, arcade, laser tag, bumper cars and other family-friendly indoor amusement is here.
Key Events
Pageant of Steam: A celebration of old steam-powered vehicles takes place in August.
Community Resources
Town of Hopewell: http://townofhopewell.org/content/ 
Town of Seneca
Named after the Seneca Indians who lived here long before any settlers of European background arrived, the town of Seneca has always been coveted for its fertile soils, good for growing a variety of crops and sustaining a lot of Holstein herds.  
Jump to:
Drive around and you'll see fields of cabbages, corn, oats, beans, wheat, hops and asparagus, as well as large, modern barns outfitted with the latest in dairy technology such as robotic milking parlors and methane digesters. Welcome to farming in the 21st century! 
Businesses based in Seneca logically have an agricultural bent. In the hamlet of Hall, there is Seedway, a full-line seed company, and Lakeland Equipment, which sells tractors and other farm machinery. The hamlet of Seneca Castle is where the first mechanized cabbage harvester was invented.  
In lieu of 24/7 grocery stores, the town of Seneca is dotted with roadside farm stands where you can buy farm-fresh produce most days of the week, often on the honor system. In autumn, Seneca Orchards in Seneca Castle invites consumers to pick their own apples.  
Flint Creek runs through Seneca, and you can experience it hiking, bik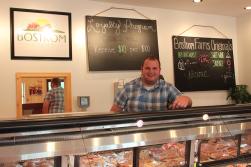 ing, cross-country skiing or snowshoeing along Ontario Pathways, a 23-mile V-shaped rail trail that has a trailhead in Stanley, another town of Seneca hamlet.  
What else is there to do in Seneca? Shop for a cook-out at Bostrom Farms, an old-fashioned butcher shop that sells locally raised pork and other meats. Have breakfast at Sweet Sue's Diner. In the fall, take the kids to Wickham's Pick'n Patch & Corn Maze, where the family can find the perfect jack-o-lantern, take a hay ride, pet farm animals, get lost in a corn maze and enjoy fresh donuts. And motorcycle enthusiasts may want to check out the Geneva Harley-Davidson dealership.
Town of Seneca Fast Facts
History 
The town of Seneca was settled in 1790, shortly after the land was purchased from the Seneca through the Phelps & Gorham Purchase. It was formally organized in 1793. 
Population 
2,721 (2010 Census) 
Size 
50.4 square miles 
Location 
The town of Seneca is in the southeastern section of Ontario County, sandwiched by the towns of Phelps and Geneva to the east and the towns of Hopewell and Gorham to the west. Route 5 and 20 is the main east-west thoroughfare, while Route 14A is a main road running north-south. 
Terrain 
The landscape is generally flat and occupied by family farms.  
Key Industries 
Farming: Dairy, field crops, vegetables, fruits and supporting agricultural businesses make up the farming landscape in the town of Seneca. Hansen Farms in Stanley grows cabbage that is distributed nationally. There are several dairy operations, including Lawnhurst Farms. Seedway LLC is a full-service farm, turf and vegetable seed company in the hamlet of Hall. 
Solid waste management: Casella Waste Systems runs the Ontario County landfill in the hamlet of Stanley.  
Education 
Students in the town of Seneca are served by two school districts: the Phelps-Clifton Springs (Midlakes) Central School District, and the Marcus Whitman Central School District. 
Finger Lakes Technical & Career Center, part of Wayne-Finger Lakes BOCES, is located in Stanley. 
Key Landmarks and Attractions 
Flint Creek: This creek runs between Canandaigua and Seneca Lakes.  
Town Park and Veterans Park: The Town Park playground and picnic area with pavilion is located next to Seneca Town Hall in the hamlet of Flint. The Veterans Park is on the same site.  
Bostrom Farms Meat Market: Locally raised pork, beef and other meats. 
Wickham's Pick'n Patch & Corn Maze: Family-friendly fall fun that includes u-pick pumpkins, hay rides, petting zoo, and other activities. 
Community Resources
Town of Seneca: www.townofseneca.com 
Town of Gorham
The town of Gorham is a quieter part of Ontario County in the Finger Lakes. It bears the name of one of the two original landholders of the "western frontier," Nathaniel Gorham. Certainly, things have changed since it was first settled in the late 1700s, but what draws many to this sleepy yet scenic community is its peaceful farmscapes, treasured lakefront (there are nearly 7 miles of Canandaigua Lake shoreline), quaint lakeside cottages and homes, and a reverence for historic preservation.
Jump to: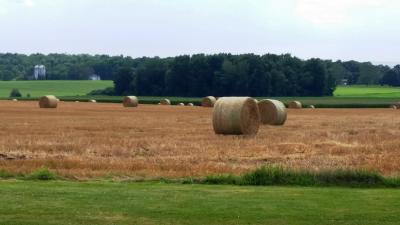 Farming has always been the backbone of the local economy, with many local farm families stretching back generations. Decades ago, the town was home to several canning and pickling factories that processed the vegetables and fruits grown nearby, but as that industry faded, dairy farming began to take root. New businesses have taken up residence in some of these old factories. 
In recent years, many horse-and-buggy Mennonite families have settled in the area from Pennsylvania and other parts of the Finger Lakes. These families have not only embraced farming and added diversity in crop production, but some have also started other related farm businesses such as welding shops and building contractors. 
Because of the beautiful views throughout Gorham, outdoor recreation is a popular activity with many road biking options along the wide rural roads that receive little traffic. Gorham is also a great town for a Sunday drive, where you can enjoy a Mennonite schoolhouse, a glittering lake dotted with sailboats and a panoramic view of rolling hills and old barns all within a few miles. 
Half of the village of Rushville is in Gorham, with the remainder in the Yates County town of Potter. The historic Crystal Beach and Cottage City neighborhoods along Canandaigua Lake were first developed in the late 1800s as summer cottages for Rochester residents.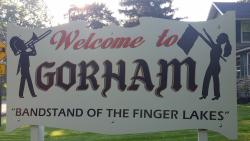 The hamlet of Gorham is known as the  "Bandstand of the Finger Lakes." Since the 1960s, it has hosted the annual Gorham Pageant of Bands, a two-day event in early June featuring competition and performances of high school color guards and marching bands from across New York state. 
Town of Gorham Fast Facts
History
The town of Gorham was originally established in 1796 at East Town. The name was later changed to Easton, then Lincoln, and finally Gorham in 1807, after Nathaniel Gorham. Gorham was one of the two land prospectors who made the Phelps & Gorham Purchase of 1788. 
Population
4,274 (2010 Census)
Size
53.2 square miles (including 4.3 square miles of water)
Location
The town of Gorham is southeast of Canandaigua. Canandaigua Lake creates its western border, the town of Seneca is to the east, Yates County is to the south and Hopewell is to the north. Major roadways included Route 245, Route 247 and Route 364. 
Terrain
Gorham is mostly farmland with scenic rolling hills that get steeper as you head west toward Canandaigua Lake. 
Key Industries
Agriculture: Farming, in particular, dairy farming, is the foundation of the town's economy, though in recent years many farms have diversified to include vegetables and other crops. There are also several supporting agriculture-related businesses.
Light manufacturing and construction:  Flint Creek Resources, Inc. recycles glass polishing compounds for secondary use. Iversen Construction Corporation serves as general contractors for municipalities, health-care providers, school districts and institutions of higher education. Both are in the hamlet of Gorham.
Restoration: Document Reprocessors in Rushville salvages water-damaged documents. 
Education
Gorham students attend Marcus Whitman Central School, whose middle school and high school are located just north of Rushville. The district is named after the Rushville-born missionary who led the first wagon train on the Oregon Trail. 
Key Landmarks and Attractions
Gorham Post Office: Restored in 2003, this former post office is now a museum showcasing artifacts from Gorham's farming past. It is in the hamlet of Gorham. Hours are seasonal. 
Heritage Park: This town park, on Lake to Lake Road, features a pavilion, picnic area and playground area.
Deep Run Beach: This county park, on Canandaigua Lake, is set up for swimming and picnicking. There is a public restroom.
Ontario Beach Park: This county park, on Canandaigua Lake, is open to the public for picnics. 
Gorham House Bed and Breakfast: This Victorian 14-room colonial farmhouse features country charm and 5 acres of beautifully landscaped grounds and gardens.
Key Events
Gorham Pageant of Bands: The first weekend of June, color guards and marching bands from New York state high schools perform and compete in the hamlet of Gorham. 
Community Resources
Town of Gorham: http://www.gorham-ny.com/ 
Town of Gorham Historical Society: http://gorhamnyhistoricalsociety.org/