NYS Erie Canal and Seneca Cayuga Canal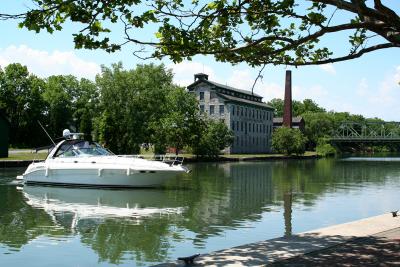 The 524-mile New York State Canal System connects with hundreds of miles of lakes and rivers across the Empire State, linking the Great Lakes with the majestic Hudson River and with five waterways in Canada. The New York State Erie Canal is connected to our own Seneca Lake via the Cayuga Seneca Canal. From Geneva and Seneca Lake you can almost "cruise the world" as the waterways are connected to the Hudson River through New York City and out to the Atlantic Ocean. The Great Lakes are also connected throughout western New York. Other popular towns on the canal include nearby Fairport, Macedon, and Pittsford.
The legend of the grand Erie Canal flows as strongly today as it did when it was opened in 1825. Four waterways -- the Erie, the Champlain, the Oswego, and the Cayuga-Seneca -- travel through New York's heartland, gliding past lush farmland, famous battlefields, scenic port towns, and thriving wildlife preserves. Port Gibson is the only area in Ontario County that is accessible from the original Erie Canal.
Low bridge, everybody down
Low bridge cause we're coming to a town
And you'll always know your neighbor
And you'll always know your pal
If you've ever navigated on the Erie Canal
Generations of families have been singing this popular song, "15 Miles on the Erie Canal". You, too, can come explore some of the oldest water routes in North America and follow in the wake of history here in the Finger Lakes.
Come and join the chorus.