CANANDAIGUA – Sonnenberg Gardens & Mansion State Historic Park in Canandaigua, NY is offering two holiday events this season that harken back to Canandaigua's historic past— the elegant Victorian fantasy Christmas party, the Sonnenberg Christmas Gala on December 6 and the festive Sonnenberg Christmas Community Day on December 12.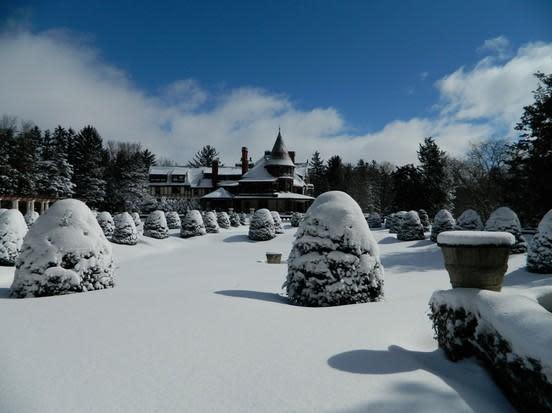 The Sonnenberg Christmas Gala, on December 6 from 5 – 9 pm, will allow guests to take a step back in time to experience the spirit of the elegant parties that were once a mainstay of Sonnenberg's past and a common sight to the Sonnenberg Mansion. The Gala will feature music, dancing, and festive foods. Local wines will be available for purchase by the glass. Professional dancers will be putting on a dance performance for guests. Guests will be able to freely tour the Sonnenberg Mansion festooned will holiday decorations—a breath-taking backdrop for guests' holiday snapshots.
Tickets for the Christmas Gala Ball the Ball are $55/person and $45/Sonnenberg Members. Prepaid reservations are required. For more information or to purchase tickets, please call 585-394-4922 or go online at www.sonnenberg.org.
The Sonnenberg Christmas Community Day, on December 12 from 11 am – 3 pm, will offer the community a second chance to tour the Sonnenberg Mansion that has been gaily decorated for the holiday season. Refreshments will be available plus musical entertainment from the Canandaigua Middle School choir at 1 pm. Parking for this event, as well as for the Christmas Gala, is in the VA Hospital parking lots adjacent to Sonnenberg's Fort Hill Avenue entrance. While this event is free to the public, donations are gratefully accepted.
All proceeds from these events go to support the continued operation and preservation of Sonnenberg Gardens & Mansion State Historic Park. While Sonnenberg Gardens operates in cooperation with the State of NY, it is receives no State funding and operates only through the funds raised by the efforts of its non-profit organization. If you are interested in helping to support this historic treasure, please call 585-394-4922 or see www.sonnenberg.org.
Located at 151 Charlotte Street in Canandaigua, Sonnenberg Gardens & Mansion State Historic Park is one of America's longest surviving estates from the Victorian Era. The elegant Queen Anne-style mansion was built in 1887 in Canandaigua by New York City financier Frederick Ferris Thompson, and his wife, Mary Clark Thompson, as a summer home. Between 1901 and 1920, the widowed Mrs. Thompson and her staff created the nine formal gardens seen today. The grounds are open to the public from May 1 through October 31 each year. Sonnenberg is a non-profit organization dependent upon the support of members and sponsors and its dedicated corps of volunteers. For more information on the revival of the grand estate on the "sunny hill," contact Marketing Coordinator Kimberly Burkard or Executive Director David Hutchings at 585-394-4922.
Kimberly Burkard 585-394-4922