Canandaigua, NY (January 7, 2014), With frozen smiles are their faces diehard skiers and snowboarders converged on Bristol Mountain today.  The same theme was heard from all, "Protecting exposed skin, layering clothes and frequent breaks is the key to getting quality runs in on the slopes in this type of weather condition".  On a break, seventy-seven year old season passholder,  Ed Cook described the conditions as fine today.  When asked if he was going back out after his coffee break he, gave an enthusiastic, "Yep!, It's a good day to ski". 
Holly Rushford (Naples, NY), Ray Della (Tennessee), Mac Warner (Victor) and Chuck Wentzel (Pittsford), weren't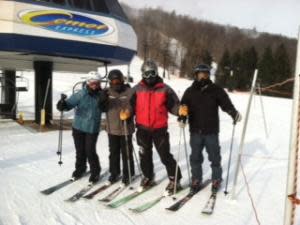 discouraged by the arctic temperatures and spent the morning together skiing the slopes. 
Bristol Mountain Drew Broderick 585-455-4186