Canandaigua, NY – Twisted Rail Brewing Company, Inc., announces its Spirits of the Season series, featuring weekly tasting events by guest Finger Lakes New York Farm Distillers.  Spirits of the Season will kick off Thanksgiving weekend and continue every Sunday through the holiday season at Twisted Rail's brewery and tasting room located at 20 Pleasant Street in Canandaigua's historic Railroad District.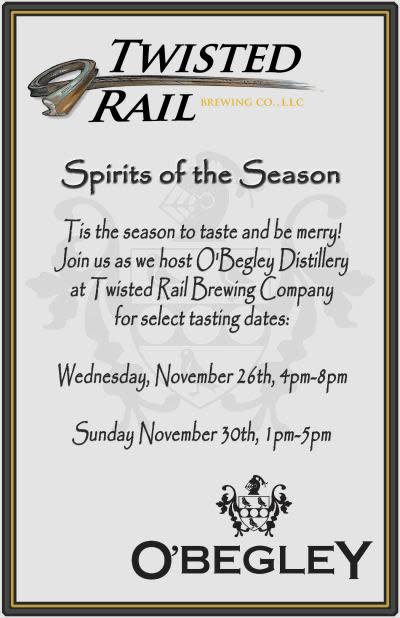 "You might say it's a pay-it-forward series," said Twisted Rail brewer/partner John McMullen.  "When we opened one year ago, the local New York Farm Breweries and Finger Lakes wineries were so supportive; and now we're passing on that spirit to the new distillers."  "It's also a great opportunity for shoppers to get away from the mall, and pick up some great beer and spirit-related gifts right here in downtown Canandaigua," he added.
Pittsford, NY-based O'Begley Distillery starts off the series with a pre-Thanksgiving visit on Wednesday, November 26, from 3:00 PM – 8:00 PM; and again on Sunday, November 30 from 1:00 PM to 5:00 PM.  Other NY Farm Distillers in the series will include Williamson, NY-based Apple Country Spirits on Sunday, December 14 from 1:00 PM to 5:00 PM; and Rochester-based Black Button Distillery on Sunday, December 21 from 1:00 PM to 5:00 PM.
O'Begley's New York Farm Distillery license permits guests to purchase samples and bottles their traditional Irish-Style whiskies just in time for the holidays.  "We'll be sampling our Poitin and Old Kilfountan whiskies, and a couple of cocktail mixes, too," said O'Begley's Adam Begley. 
In the spirit of giving, Twisted Rail will be donating a portion of the proceeds of this event to Finger Lakes Regional Burn Association, Inc.  "Almost a quarter of all residential fires, and the burn injuries caused by these fires, happen in December and January," said FLRBA President and career firefighter Greg Merrick.  "Both (brewing and distilling) involve processes that can put employees at a high risk of burn injury from contact with steam, boiling wort, and the equipment itself," said Merrick.  "It only takes a second for that wrong move that causes serious injury.  We want people to be mindful of that," he added.
ABOUT TWISTED RAIL BREWING COMPANY, INC.
Opened in December 2013, Twisted Rail Brewing Company is a quaint micro brewery situated in a beautifully-restored, 100-year-old train depot in the heart of downtown Canandaigua by partners John McMullen, Mike McMullen and Nathan Sirvent.   Twisted Rail holds a New York State Farm Brewery License to make the beer, and serve flights, pints, sell growlers and kegs of anything brewed on location. For more information visit
www.twistedrailbrewing.com
585-396-0683 twistedrailbrewing@yahoo.com