The Finger Lakes Visitors Connection team worked from home during Winter Storm Vulcan (a storm that evolved into the March 2014 Blizzard). We got a lot done, but we also had some #FLX fun! Take a look below to see how we all enjoyed our snowy and blustery day in the Finger Lakes.
Carol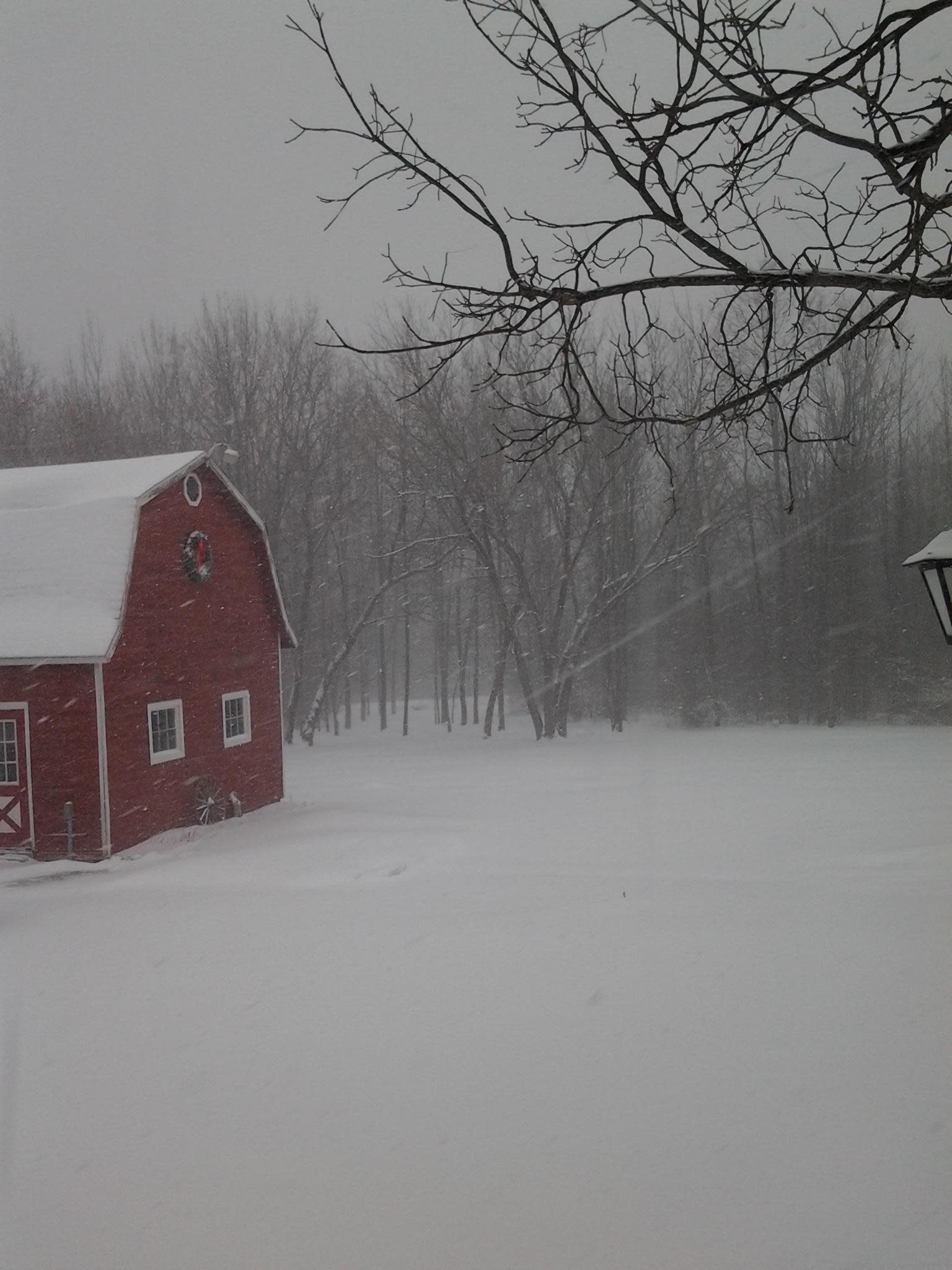 I spent the day working and bird watching! There were so many gorgeous cardinals coming and going from the bird feeder. I certainly did a lot of shoveling, with my dog, Shadow, as supervisor. The snow was so deep she could barely walk through it, so she and I worked together clearing paths throughout the day. It was also a perfect day for winter Finger Lakes photography. I took some stunning shots of my snowy backyard including the one below of my red barn.
David
My snow day was spent with my newborn son, Grant. It was Grant's first winter storm, and he seemed pretty happy about witnessing the blizzard of 2014! He and I spent a lot of time on the computer and phone taking care of work-related tasks. When we weren't hanging out, I was shoveling all the heavy white stuff. I think I spent five hours shoveling, but it was a great workout! After all that, I had a nice time sitting by the fire watching the snow fall in my backyard along the Gateway Trail in Manchester.
AJ
Yesterday, winter storm Vulcan stopped me from getting into work. But it didn't stop my sidekick and me from being productive and having a fun snow day at home. My puppy, Scarlet, helped me early in the day with some computer work. Later, after we cleared some paths for her to go play in the snow, she decided to browse the Visit Finger Lakes travel guide. She found all sorts of great ideas for winter fun. Now she won't stop begging me to take her to Ganondagan next weekend for a winter hike through the woods!
Michelle
It was good learning how to work from home. I caught up on e-mail and had a few conference calls all without leaving my house; technology is amazing! In fact, I even used Snapchat to take some photos of the snow for my daughter who lives in Buffalo. We were comparing who got more snow, and we declared the Finger Lakes the winner!
Laurie
Doing the daily chores in the midst of a blizzard was quite an adventure. Making it out to the barn to feed the horses was a challenge in itself. I put on a complete snowsuit and set out on the journey with Mollie, my dog. She definitely had more fun in the snow than I did. Maybe it has something to do with four legs instead of two! She had a great time racing up and down the snow drifts as I just tried to trudge through without falling. What was fun for me was taking video of the intense snow and wind that was causing sideways snow and whiteouts! All of my friends in warmer climates who had escaped being hit by this storm were totally enjoying our snow day!
Sue
Being snowed in in the hills of Bristol isn't such a bad thing. I got a lot done during Vulcan thanks to David serving as the "help desk" for all of us working remotely! While I was working at my kitchen table, a birdie flew up to the windowsill, pecked on the window, which reminded me to feed all the birds outside! I did take some time out of the day to have fun walking my granddogger through the snow. At some points the snow and wind were so powerful that I couldn't even see the barn across the street!
Lindsay
I had a double snow day yesterday. No work at Finger Lakes Visitors Connection and no school at Finger Lakes Community College. My parents definitely put me to work at home, though! I used the snowblower to clear the driveway four times and did lots of homework. But, of course, I had to also have some fun during the blizzard. After snowblowing, I jumped in the snow and rolled all the way down our huge hill and made a snow angel. A girl's gotta have some fun on her day off!
Valerie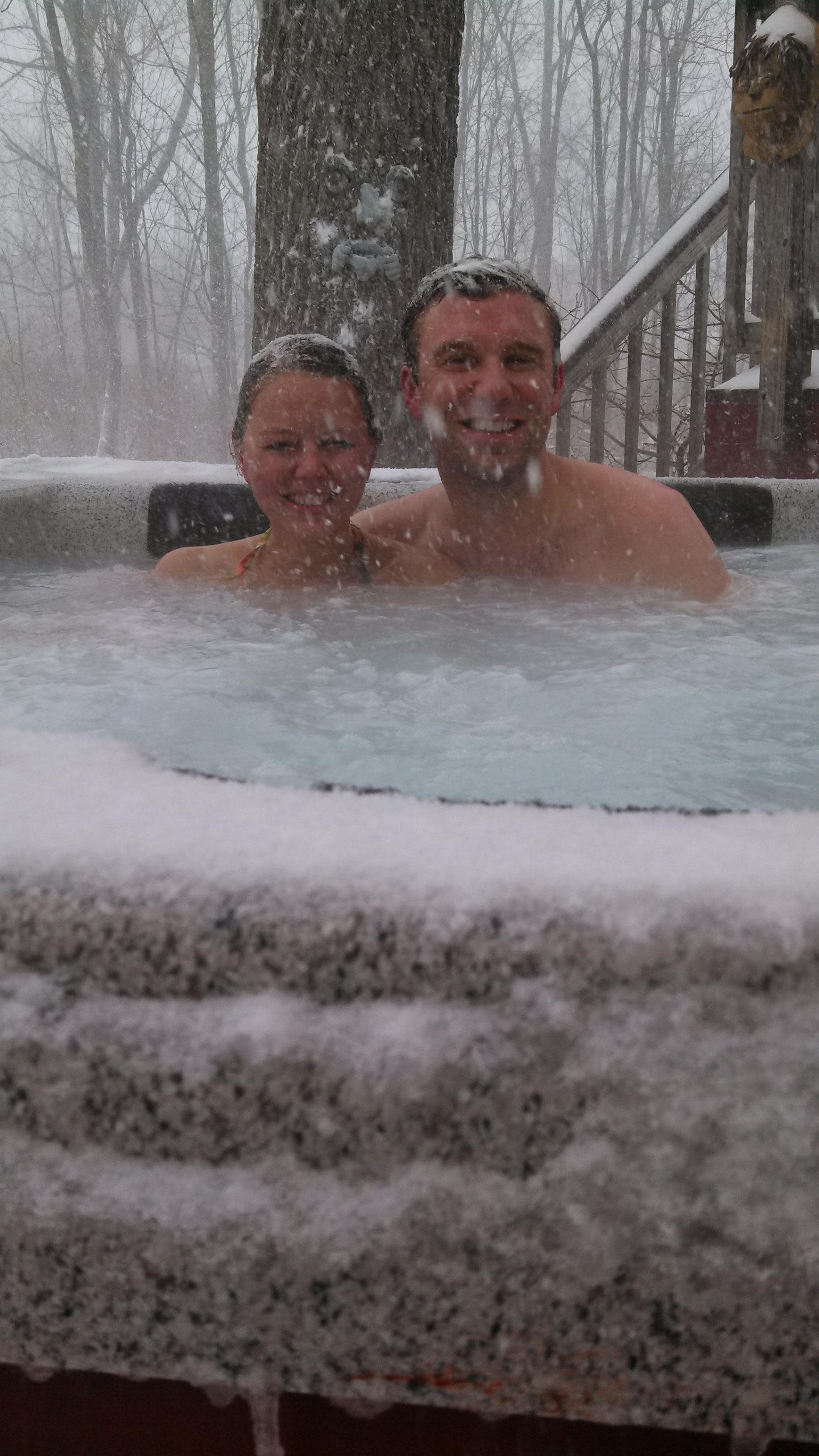 During the winter storm, I was lucky to have newlywed house guests to keep me busy! My son and his wife were visiting from the southwest just in time for the blizzard. They enjoyed a walk through Grimes Glen in Naples to see the semi-frozen water falls and a dip in our hot tub with the snow falling! They'll be here for a few more days and will have more winter fun at Bristol Mountain Winter Resort and Bristol Valley Theatre. Life is good for these two!
And a heartfelt thank you!
We were fortunate to be able enjoy the snow day at home,  and be very productive, but we also want to acknowledge that we owe our safety to the hard work of police, firefighters, highway and emergency crews working around the clock to make sure our communities and roads were safe during the storm. They have our utmost respect and we thank them for their service.