The Finger Lakes are home to many small, close-knit communities, the fabric of which is made from the people who inhabit them, yes, but also the small businesses that bring unique offerings to the area.  Here at the Finger Lakes Visitors Connection, we are so happy to celebrate those small businesses that attract our visitors, make this area a great place to live, and keep our communities thriving.  So, in honor of National Small Business Week – which is celebrating 50 years in 2013 - we'd like to highlight some of our Insiders' favorite small businesses!
In the spotlight today: a cozy, inviting Italian Bistro – new to the neighborhood! Il Posto Bistro & Wine Bar in downtown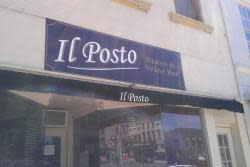 Canandaigua is the newest place to be in town. Owners George Vindigni and Lisa Herrick are two longtime business partners with a passion for food and wine. In fact, George has been in the restaurant industry for 40 years and Lisa for 20 years. You may know them as the former owners of Bacco's Ristorante in Rochester – another true treat. Why the relocation from a large city to a smaller community?  According to the partners, "Canandaigua has a nice hometown feeling with an emphasis on buying and using local products", and overall, the change is very positive for them both.
George and Lisa find themselves surrounded by many small businesses in downtown Canandaigua - from antique stores to sweet shops and full restaurants to small cafes. There is truly something for everyone, and as if that isn't enough, the beauty of Canandaigua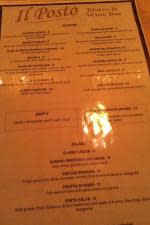 is enticing in its own way. Opening a business in the area wasn't enough for these restaurateurs, though - George and Lisa live in this wonderful town too. In their words, "It's right where we want to be."
I have gone to Il Posto a number of times and I can't think of another place around with the same relaxed environment. Sit back, indulge in great food, and enjoy wonderful wine. The menu at Il Posto is diverse and unique - from grilled romaine, to mezze rigatoni Bolognese, to lamb tagine - you are sure to find a reason to continue coming back. In my brief conversation with George and Lisa, I also learned that the vegetables used at Il Posto come straight from Lisa's garden and when her garden is picked over, they use a farmer out of Waterloo. I don't know about you, but I like to know where my food is coming from, and the closer to home, the better!
Not hungry? If anything, you have to go just to check out the huge wine bottle with wine on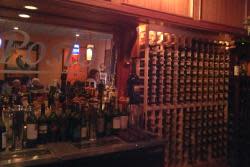 tap. How cool is that?
So the next time you are in beautiful downtown Canandaigua, make sure you stop by Il Posto. Grab a bite to eat, enjoy the sprawling wine bar, and say hello to George and Lisa - you won't be disappointed.