Welcome to the first official week of summer in the Finger Lakes! At Finger Lakes Visitors Connection, we're so excited about the warm and sunny days ahead, that we're dedicating a full week of blogs to what each Finger Lakes Insider is most looking forward to this summer. This is the second in the series.
I grew up in the Finger Lakes, but after attending a local college, I moved to New England. While that was a nice place to live, and yes, there is an ocean about an hour from where we lived, the best part of the year for me was always when I made the summer trips back "home" to the Finger Lakes. Those short trips were always crammed with as many summer activities as we could squeeze in during the two-week visits. Now, after 28 years in Connecticut, I'm ecstatic to be living back in the area year-round, and I have some catching up to do.
When I was growing up on a farm in the area, I enjoyed spending time at the lakes, whether it was boating or swimming. In my late teens I was finally brave enough to take on water skiing, and the lake became a whole different playground for me. I actually enjoyed the thrill of being pulled across that water on a hot summer day (as long as the lake was so calm it looked like glass), but hey, there are a lot of people who won't even do that. I'm telling you now, though, if you have the opportunity to learn, go for it! It takes a while to get the hang of standing up on your skis, and your muscles are worn out by the time you get through, but the sense of accomplishment is a natural high. Later I graduated to kneeboarding and discovered a new favorite water activity. That, too, was a challenge, but really fun.
So that leads me to this year, my second full summer "back home". My husband, Jim, and I love to walk Mollie, our dog, at Kershaw Park along the lake or rent kayaks from
Canandaigua Sailboarding
to spend time on the water.  That's all fine, but I often catch myself watching the adventurous people out on the water enjoying some of the newer water sports and yearning to be like them. I've made it my mission this year to amp up the courage level again, like I did as a teen, and try some of them. First on my list is renting a hydrobike. While waterbiking probably won't require a whole lot of skill, I'm told by a colleague that it's a really good workout. Maybe the courage part comes in because the waterbike sits pretty high off the water, so I assume there is the potential to fall over. That's okay. It's different and something I've never done, and it's on my bucket list.
For me, the more challenging sport will be paddleboarding. I imagine it takes a lot of skill to just stand up on the board, let alone stay balanced AND paddle. The people out on the water make it look easy, but I'm sure it will take me a few attempts before I master it – if I can even say that I've mastered it.  (And to be honest, you can interpret "a few attempts" any way you like, but make it a double-digit number, for sure!) Once I'm successful, I expect it would be another great workout, but better than that, on a hot day when a nice gentle breeze is blowing across the water, it will be incredibly refreshing.
Also on my list of "must do's" this summer is taking Jim and Mollie to
Grimes Glen
in Naples. We love to be outdoors, and I've heard so much about the great trails and the gorgeous waterfalls that I don't want to wait another year to check it out. The romantic in me is already picturing a blanket laid out on the cool ground near a tranquil waterfall, a scrumptious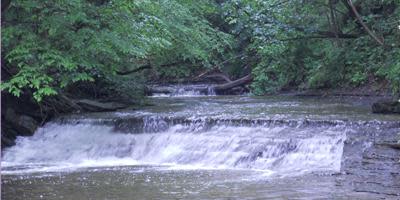 picnic lunch put together from fresh produce, fresh locally-made bread and fresh squeezed juices from
Joseph's Wayside Market
in Naples. (My mouth is watering just thinking about it.) No doubt I'll have my camera in hand ready to capture those magical moments that just happen: maybe a fawn attempting to stay camouflaged, a patch of bright wild flowers, or maybe a hummingbird lunching on the nectar from those flowers. Oh, and like so many others, of course I'll post my photos on Facebook. 
While I'm working on that whole adventurous-courage thing that started at the lake, perhaps one day I'll take my horses to
High Tor Wildlife Management
to ride the trails. It's great for the hikers, and I have a few friends who ride their horses there. Heights aren't my forte (yes, I know, the horse isn't exactly low to the ground), and I'm told there are some challenging trails that require a strong constitution. I'm working my way up to that. Maybe a little more flatland trail riding beforehand will be in order.
Sure, I have a lot more planned for summer, but I'm not going to let Labor Day roll around without having these "must-do's" checked off my list. It's unfortunate that summer is only three months long, but the positive is that autumn is so beautiful around here that I can continue to enjoy warmer weather activities into the fall, too. To be honest, summer is great, but there's something to love about every season here. One of smartest decisions Jim and I made was to move back to the Finger Lakes. Maybe I'm prejudiced, but come here and you'll see that there's no place else like it.