Working in the Finger Lakes is nothing short of magical, when I take a moment to stop and think about it. Weekday mornings, I get the privilege of driving through Farmington and in to Canandaigua on my way to the office. Coming down Route 332 as it turns into South Main Street, with the sun shining off the lake just a mile up the road, is an incredible feeling.  And one that makes the day start so much brighter!
All bragging aside, the weekends are when I find the time to truly explore the outdoors – what we like to call
Nature's Health Club
– in the Finger Lakes.  I'm a morning person, and so glad for it. The cool, breezy mornings around the lake provide the perfect atmosphere to hop on a bike, rent a kayak from
Canandaigua Sailboarding
, or lace up my hiking shoes (actually, they're Velcro, but there's no good verb there, really).  
In June, my fiancé and I signed up for a personal challenge: we enlisted ourselves to bike 44 miles through the countryside in the Buffalo suburbs as part of the
Ride for Roswell
, in honor of Pete's cousin Andrea. The challenge was exciting, yes, but not being an avid biker by any means, it was also entirely daunting.
So, what better way to prep for a challenge than to take on a series of similar challenges beforehand?   
My riding officially "started" in May, when FLVC welcomed a New York City traveler to the area with a
guided bike tour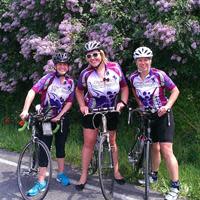 around Honeoye Lake
. She was enthralled, and so was I! As with most endorphin-producing activities, I was hooked. The serene environment and lack of traffic made biking the 18-mile route around Honeoye one of the most enjoyable things I've ever done. And with the timing right in mid-May, the scent of lilacs filled the air and the photos opportunities were endless!
Fast forward a few weeks to the Saturday before the big ride. Pete and I set out, along with our fearless leader and champion Finger Lakes biker, Val, to conquer the second of our Finger Lakes challenges: a 41-mile ride around Canandaigua Lake. Equipped with a borrowed road bike from a friend, our trusty helmets, gloves to keep the hands protected, and lots and lots of snacks stuffed into my back pockets, we set out at 7 a.m. on a beautiful Saturday morning, hoping to beat the June heat.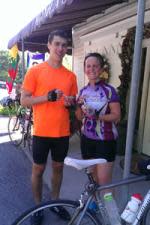 That we did. Not a leisurely ride by any means, what with the undulating hills guiding the way, the ride was beautiful nonetheless. Heading south down the Lake among the hills toward South Bristol and Naples, I did nothing short of throwing my arms up in celebration when we hit the downhill that would guide us into the Valley (oh, and I hit my record speed, too!). 
While I had packed a generous amount of almonds and energy bars, the true knight in shining armor to get us through the ride was our halfway-point "rest area":
Monica's Pies
.  A grape tart for each of us and a coffee straight from Monica for Val, and we were well fueled for the ride back up north through Gorham on Route 247.
I credit that sugar rush with our second half success.  Before we knew it, we were back at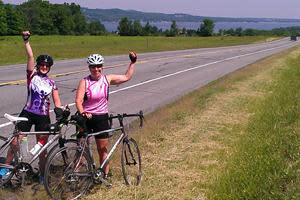 our starting point on the Finger Lakes Community College Campus in CMAC's parking lot, still full of energy!  
I could go on and on about the beauty we encountered, and how, despite the hot sun and smattering of steep hills, the ride was still incredibly relaxing in a way, but I'll stop and leave you with this: challenge yourself to get outdoors and get those endorphins rocking this summer.  And don't let it stop. The water is still warm in the fall – perfect for kayaking, in my opinion – and in winter, the adrenaline rush of the downhill slopes at
Bristol Mountain
is all this girl needs. Ah, the Finger Lakes. Oh – and our Ride for Roswell?  'Twas a breeze.