Come on, Ithaca, we thought you were tougher than that?!  I guess we're just built a little hardier here in Ontario County.  I'm sure we can find some extra mittens for anyone in Tompkins County afraid to go out in a little snow.  Maybe you can use the white flag that's been waving as a scarf?
Of course, we're just having a little fun here with our good friends in Ithaca because we so appreciate their sense of humor regarding how to deal with this winter that seems to want to go on and on. We also know that all of us here in the Finger Lakes share wonderful winter assets that are worth bragging about - even as the snow is piling up and the temperature wants to hover around...brrrrrr degrees. 
Since we can't change it, we might as well take advantage and enjoy it. We're embracing the weather for all it brings to our area and for our winter enthusiasts! With the snow-covered trees and brilliant icicles, there are also plenty of activities to enjoy.
The Florida Keys?  Who wants to sit around all day when you can have an incredible time here?  You know what you can't do in the Florida Keys?  Here's a list.  Sorry, Florida Keys ... You'll be begging to come here soon, too!
Go skiing or snowboarding!  Hit the slopes at Bristol Mountain Winter Resort where you can find the highest vertical between the Adirondacks and the Rocky Mountains.  With a total of 138 acres of ski-able terrain, the breathtaking views from Bristol's many slopes and trails are unbeatable.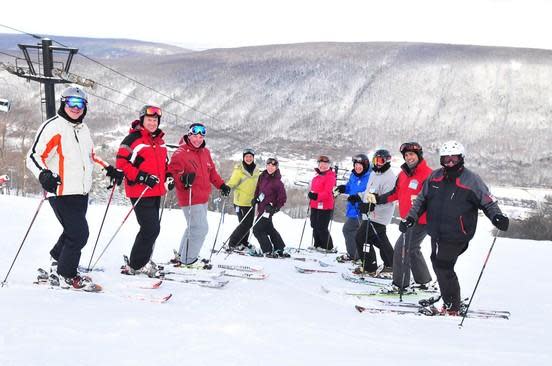 Snowmobiling at Harriet Hollister Spencer Park.  Get your adrenaline flowing and your heart pumping as you cut through the snow on trails overlooking Honeoye Lake and the Rochester skyline.
Snowshoeing at Ganondagon where the site's trails are open for public use from dawn until dusk each day.  If you're trying snowshoeing for the first time then the flat trails like the Trail of Peace or the hilltop near Ganondagon's bark longhouse are perfect.  No matter your skill level, this is a perfect way to enjoy the serene and tranquil beauty of winter.
Cross-country skiing at the Cumming Nature Center.  With 15 miles of trails, enjoy outdoor fun with the whole family while discovering the elegance of winter; just don't forget your camera!
Snowga with Finger Lakes Yogascapes.  This new adventure welcomes all levels of snowshoe and yoga. Embracing the winter has never been better for mind and body than journeying over hills on snowshoes, letting the clean, brisk air of winter fill your lungs as you stop to strike a yoga pose and take in the views of nature.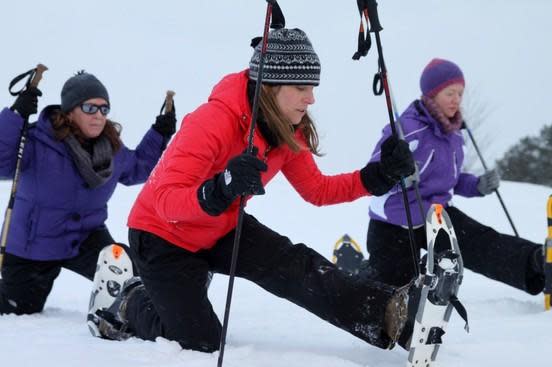 Sledding and snow tubing at Dryer Road Park.  Journey back to childhood, or create lasting memories with your family by enjoying one of winter's classics as you feel the freedom that only comes from flying down snow covered hills on sleds and snowtubes.  I'd like to see that happen on a beach.
Ice fishing.  You can ice fish on almost any of our 5 lakes at this time of the winter.  So what kind of fish are you looking for?  We can let you know the best lake to fish on for the biggest catch!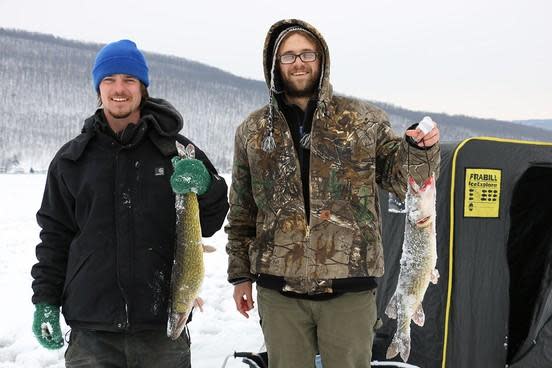 Ice skating.  It may be winter, but that's not happening on the ocean.  In Ontario County it can!  Whether you have your own, or are renting, lace up those skates at the Canandaigua Civic Center or the Geneva Recreation Complex.
Fireplaces.  There's no need for a fireplace in the hot weather, but what's more calming than the warm, crackling glow of a fire on a wintry day?  Enjoy the outdoor firepit at Belhurst Castle, as you overlook Seneca Lake.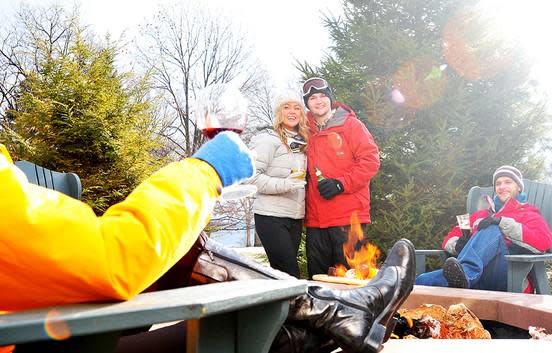 Wine.  Okay sure, you may be able to enjoy a glass of wine in the Keys, but our area is known for our wine.  Plus, we're positive that ours is just as good, if not better; especially, if you're coming back from a walk or hike along the lake in the chilly weather.  So hit all the stops on the Canandaigua Wine Trail or use a service like Finger Lakes Winery Tour or Crush on Canandaigua Tours and let someone else drive you around to experience our area's many wineries and breweries!
With so much to do, it's a good thing the forecast is calling for colder weather. I'd hate for the snow to melt before we can do everything! I hope Ontario County has warmed your adventurous spirit.  Don't give up now, Ithaca; we know you still have so much to offer even though you're ready to move on to the next season!  So grab your winter coat and a mug of hot chocolate and join us outside to play!