Thanksgiving Day – here, I come.  Christmas, you are right after that! You know it – I'm ready to cook and some of the tried, tested and requested local favorites will be on the menu, along with a "breakout" dish or two.
I do like to cook, especially when I have enough time to do some fun things. A few of my cooking experiments have gone awry, and my family is not shy about teasing me on these "rare occasions" Beyond the occasional misfire, there are some certainties on the menu that I know will always win me favor and make my home a place to be at the holidays.
Here's my quick list of what you should definitely go look for if you want to be lauded for your Thanksgiving or Christmas table.  I'll just give you four items so that you can keep all of your traditional stuff too.
First stop should be
Red Jacket Orchards
in Geneva, New York.  On my list is Apple Cider, Healthy Purple Grape Juice, and apples, of course.  There are many bonuses to be found at Red Jacket since the Mennonites who are noted for great food have many of their products available on the shelves at this wonderful farm market store.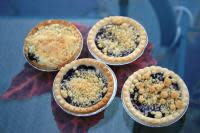 Dessert
.  Sure, go with the traditional pumpkin pie, but just for variety throw in a grape pie, too. Make it a crumb crust just to differentiate it even more from the standard pie fare. Naples, New York is the place to head for this treat. And, once you're in Naples you have lots of pie makers from which to choose. Cindy's is right next to the school. Monica's is up on Rt. 21, heading north, and
 Arbor Hill
 always has some tarts stocked for the occasion. 
Veggies. The Finger Lakes cannot be beat for fresh winter root vegetables. Some of our roadside stands are still open, so I always try to have a few singles and fives tucked in my purse so I can stop and pick up the cauliflower or squash from the local farmers. The really neat thing about these veggies is that if you find your menu is packed, you can easily tuck these away for a great soup to be cooked-up at a later date!
Wine and Beer. You have to have both because there is the perfect wine for the meal and then the follow-up beer for the Thanksgiving Day football games. With 125 plus wineries in the Finger Lakes, stop along any of the wine trails to make a selection or two. For the breweries – it's time to pick up a growler – for this year, might I suggest Naked Dove's anniversary brew. So many choices there are – and such little space to list them here.  So click through on our website to get some great stops that just may be enroute between the store and your table!
And, for you that don't want to go to all this trouble – we are ultimately blessed to be the home of Wegman's – enough said!  If you're not familiar with it – it's a definite must see!
Finally, I must put in a plug for the décor of the Thanksgiving table.  We have so many local artists and this holiday time of year seems the perfect time to add to your collection of pottery! There's nothing like a piece of Wizard of Clay Bristoleaf or Crystalline to set off the celebration of all the things we have to be thankful for in the Finger Lakes. Beautiful while functional. 
Really, these are simple little things – but making my  table Thanksgiving Worthy and then serving it all up make my holiday meals just one more expression of all the things that I believe we have to be thankful for living and thriving here in the Finger Lakes.