Riding home on my bike yesterday, I stopped at a light and watched as a single, red leaf fell slowly to the ground in front of me. That was the moment I realized, fall is here and it's OK. The striking red of the leaf reminded me how much I actually love fall. 
This is our glory season, the time of year when our hillsides light with color and the lakes shimmer reflecting the golds, reds and greens of autumn. In beautiful Ontario County, there are so many places to get outside to soak in the fall color before winter truly arrives. Here are three great options to get you started. 
High Tor Has Something for Everyone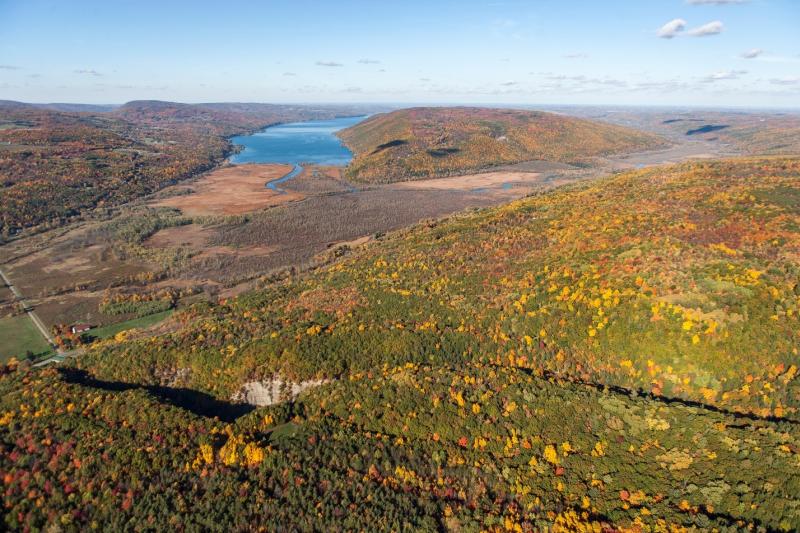 Photo: Bill Hecht
High Tor Wildlife Management Area is a vast 6,315-acre wilderness conserved by  New York State. Here, you can fish along the West River or explore the water in your canoe or kayak. Cyclists, hikers and trail runners can find adventure on the Lehigh Valley Rail Trail or on the miles of trails and access roads that crisscross the upland portion of the WMA. And, for an iconic Finger Lakes experience, make sure you find time to take a walk up the gorge at both Conklin Gully and Clark Gully.  
Learn more about High Tor and all the WMA has to offer by visiting gofingerlakes.org/locations/high-tor-wildlife-management-area/.
If you want to get away from it all, Wesley Hill Nature Preserve is the place. This 390-acre preserve with over five miles of trails is owned and managed by the Finger Lakes Land Trust. As you hike, take in the immense Briggs Gully, some of which forms the preserve's southern boundary. Explore diverse stands of mature forest, including old-growth, and be sure to find hidden spots along the trail with sweeping views of the hills surrounding Honeoye Lake's southern end. Deep in the woods, you may come across an abandoned cabin once used as an artist's retreat.
Learn more about beautiful Wesley Hill Nature Preserve by visiting gofingerlakes.org/locations/wesley-hill-nature-preserve/ and about the non-profit Finger Lakes Land Trust's conservation work at fllt.org.
Take in the Views at Gannett Hill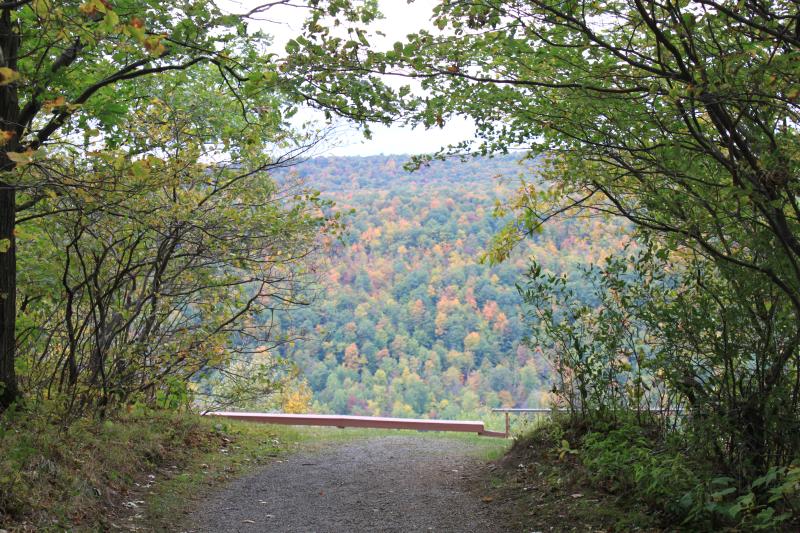 If you are looking for the perfect spot to take in the fall colors, look no further than Gannett Hill Park.  This 400-acre, county-owned park has an overlook at the end of a short ADA-accessible path that offers scenic views of the Bristol Valley. When you are finished admiring the spectacular view, there are plenty of other activities to keep you busy for the afternoon, including more than 10 miles of trails, ball fields, a fishing pond, a playground and plenty of spots to have an early fall barbecue.
Learn more about Gannett Hill Park by visiting gofingerlakes.org/locations/gannett-hill-park/.

After you finish visiting these amazing places, find your next outdoor adventure by using gofingerlakes.org—an online discovery tool created by the non-profit Finger Lakes Land Trust to help you get outside.
Featuring 58-mapped locations with more than 650 miles of trail, Go Finger Lakes has photo galleries, driving directions and all the details you may need to start exploring.