Looking for some fun things to do this weekend? Here are weekend picks from our six insiders at Finger Lakes Visitors Connection!
AJ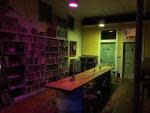 Lake Drum Brewing
in downtown Geneva opened just a few weeks ago and is the first brewery in Geneva since prohibition. They aren't brewing their own beer quite yet, but they are open for business and have a variety of selections from Finger Lakes wineries and breweries. AJ recommends stopping by for a tasting, pint or to take home a growler full of local craft beer.
Sue
Thanksgiving is right around the corner! That means it's time to stock up on a whole bunch of pie for friends and relatives. Sue will be heading down to
Monica's Pies
in Naples this weekend to pick up pecan, grape, pumpkin, and apple pies. Monica is also famous for her chicken pot pies that are easily freezable if you're looking for a hearty meal sometime after Thanksgiving.
Michelle
Sue might be thinking about Thanksgiving, but Michelle is moving ahead towards Christmas! She's off to
EASTVIEW Mall
this weekend to get some shopping done for her teenage daughter. Abercrombie & Fitch and American Eagle are the "must stops," and she also recommends the LEGO Store if you have younger children, or if you're shopping for adults who are young at heart!
David
David is in Nashville this weekend at the Social Media Tourism Symposium learning all about blending travel and social media together. He'll also be exploring the sights in Nashville including the famous Ryman Auditorium, which reminds him of the historic Smith Opera House of the Finger Lakes in Geneva. This weekend, The Smith is hosting the
Koshare Dance Collective
, a dance club that has been performing for more than 65 years!
Valerie
Valerie is looking forward to a Saturday night culinary extravaganza at the New York Wine & Culinary Center's
New York State of Mind Dinner and Awards
. The night will be full of cooking demonstrations, wine, music and an awards celebration honoring those in the state that promote New York food, beverage, agriculture and tourism. Ontario County's own Trish Aser and
Brown Hound Bistro
are winning the EAT NY Award,
Bostrom Farms
is winning the GROW NY Award and our organization, Finger Lakes Visitors Connection, is a runner up in the LOVE NY category!
Carol
Carol is thrilled the snow is falling! She's taking her dog, Shadow, on a hike on the
Victor Hiking Trails
. She's also happy the holidays are coming, and is going to visit
Granger Homestead
for the Festival of Trees. Until Dec. 14, visitors can stroll through the Homestead while taking in more than 100 holiday trees and decorations on display.