While there are activities galore to keep everyone entertained on a Finger Lakes vacation, sometimes when it's hot out I just want to find a way to beat the heat and relax. Here's a quick guide to some of my family's go-to places to do just that. All of them are family-friendly, so pick one or two from the list, or if you're in the area for several days, try to fit them all into your itinerary. It's fun to be one of the "cool" ones in the summer.
Of course, since we're right here in lake country, boating, water skiing, knee boarding and swimming are the standard ways to experience the water. But I also like to explore opportunities that are a little less traditional when we think of going to the lake, so here are my top choices for fun ways to get wet and cool down.
I'll start out with what's new and I can't wait to try, the very exciting addition to the area of the Roseland Wave Park in Canandaigua. This facility will take water fun to a whole new level. Those who are into adventure and a little bit of risk-taking will enjoy this park. You'll have the opportunity to "catch a wave and be sittin' on top of the world," as the Beach Boys would say.
Pictured below is a very confident wake boarder at Roseland Wave Park.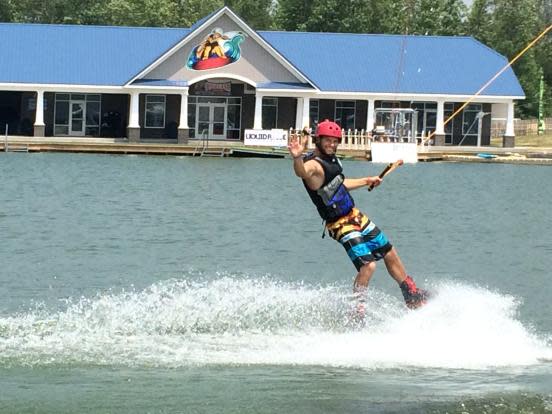 Test your skills and get your thrills as you ride a crest of waves created as you are pulled along Muar Lake by a cable system. (If you're new at this, the park does offer beginner lessons and tips so that everyone at any skill level can enjoy the park safely.) I'm not adventurous, but I have to admit I'm interested in going there to check things out with friends. Okay, give me a beginner wave and I'm all in!
If that's a little too much adventure for you (or me), or you have younger children with you, step right next door to Roseland Water Park and let the cooling begin. While the water slides have a way of sending my stomach up into my throat, the "lazy river ride" and the smaller wave pool are very relaxing and refreshing. With my eyes closed, I can imagine I'm floating down a river on an inner tube, or if I don't want a ride, I imagine myself at my favorite Maine ocean beach when I let the cool, refreshing waves slosh over me. (I'm getting relaxed just thinking about it.)
Pictured below is the wave pool at Roseland Wake Park.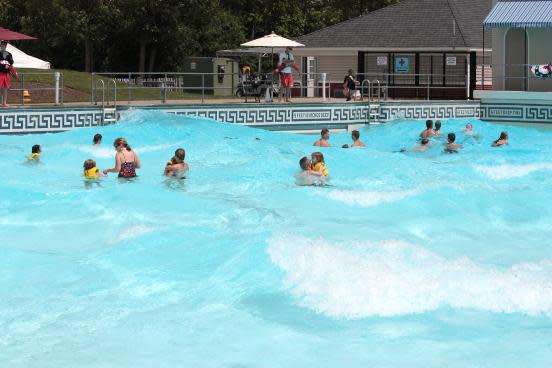 Moving east on Routes 5 and 20, nothing is more fun than taking the great-nieces and nephews to the sprayground in Geneva (or in this case, my friend's little girl, Arabelle or my co-worker's son, Logan). Situated in Seneca Lake State Park along the northern shores of Seneca Lake, the location offers a view of the lake for the adults while the kiddies are splashing around and cooling off in the fun fountains throughout the park. But don't let the kids be the only cool ones. Go ahead and get wet yourself, too. (Below is my little friend Logan staying cool.)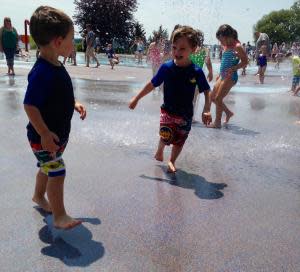 After all, most of us still have that kid side lurking inside us, anyway. (Oh, and a bonus: take a stroll down the pedestrian path toward the Ramada Geneva Lakefront and grab an ice cream cone at Long Pier Ice Cream.)
Moving on to nature's playground, you can head to one of the stunning lakes. If you're like me, you love to be active, even if it is hot. So head to Kershaw Park in Canandaigua or Grimes Glen Park in Naples. These are two of my favorite go-to places for enjoying nature and water.
I love kayaking, but I am determined to try the hydro-bikes and stand-up paddleboarding at Kershaw Park.  I don't own any of that equipment, so that's where Canandaigua Sailboarding fits into my list. My friend Jake recently tried it for the first time, and I was jealous of how easy he made it look. (Okay, he is more than half my age, but still...) I will conquer those two "water beasts" this summer.
Being active isn't the only way that my family and I enjoy the water.  We spend plenty of time at Kershaw Park when our goal is to sit, relax and enjoy being by Canandaigua Lake. We often bring along a picnic to enjoy under one of the willow trees or one of the many picnic tables or benches if we want to be in the sun. Of course, we can also swim there if we decide we need more cooling off. There's nothing more relaxing than listening to the waves lapping against the shore while enjoying a serene view that's guaranteed to bring the blood pressure and stress level down. 
Since I'm a nature lover, nothing refreshes me more, both body and soul, than a hike through Grimes Glen Park in Naples. Put on your water shoes, because hiking here means walking through the stream bed on your way to admiring not one, but two waterfalls within the park's boundaries. It's like heaven on Earth. It tends to be cooler in the Glen, especially near the waterfalls. On top of that, I love being away from the hustle and bustle of everyday life and immersing myself in the sounds of the birds, the rustling of the leaves, and the chirping of the chipmunks. After that cool down, my temperature and blood pressure are both lower. Double bonus!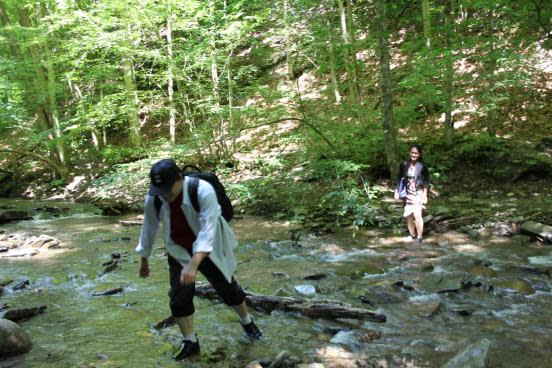 Hmm...now that's two times when my blood pressure is coming down. This water "stuff" must be great for my health!