Hi! I am the Bristol Mountain Snow Angel and I am your new Finger Lakes Insider! Let me tell you a little bit about myself… I am relatively new to the Finger Lakes and I really just have one hobby. I LOVE hanging out at Bristol Mountain Winter Resort. The 34 trails, two terrain parks and high-speed lifts are all great, but what I really like to do at the Mountain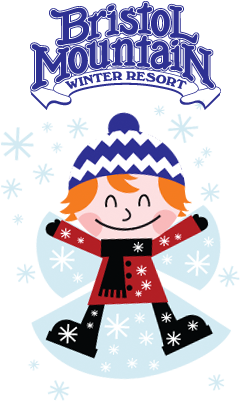 is watch all the skiers and snowboarders being kind to each other. I've quickly learned that Bristol Mountain is one of the happiest places to be in the Finger Lakes.
My goal at the Mountain this winter is to keep the kindness and happiness going and spreading it around as much as possible. That's why all winter the Bristol Mountain team is handing out cards with my face on it. They're asking skiers and snowboarders to do something nice for someone "in the next ten minutes." If you want one of those cards with my face, you can also go to guest services and tell them what act of kindness you'll commit, and they'll fork over a card.
Once you get a Snow Angel Card, I encourage you to keep it all season! I've worked out a deal with the nice people at Bristol Mountain and they have agreed to put a scratch-off number on the back of the card. A couple of times per week Bristol Mountain will choose a number randomly and post that number on my web site at www.bmtsnowangel.com. If you get a winning number, you'll get a prize from Bristol Mountain!
Just last week, I saw all sorts of kindness at the Mountain. One day I saw someone brushing snow off a whole bunch of cars. Another day I witnessed a nice Bristol Mountain employee find a young skier's pair of shoes that were thought to be lost forever.
It's really easy. All you have to do is one little act of kindness to completely make someone's day. And don't worry, I'll be right there watching and smiling!
See ya on the Mountain!