March means maple, especially for Ontario County in the Finger Lakes! During Maple Weekend, maple farms across New York State invite visitors to their "sugar houses" to experience firsthand how pure, mouthwatering maple syrup and other related products are made. Visitors also have the opportunity to enjoy fun, family-friendly activities, taste New York's freshest syrup and purchase maple products.
Check out our events calendar to see what activities are being held during this year's Maple Weekends, March 17-18 and 24-25.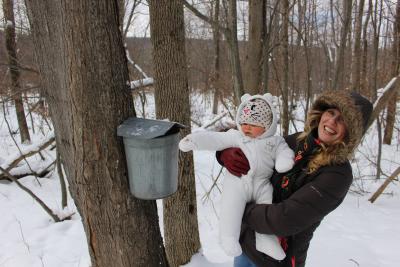 Cumming Nature Center
Celebrate 40 years of maple sugaring by visiting Cumming Nature Center from 9am to 1pm March 17-18 and 24-25 to have a freshly prepared pancake breakfast with pure maple syrup. Gluten-free options will be available. After, take a walk on one of Cumming Nature Center's many trails and learn how a tree makes sap.
Learn the processing techniques used to turn sap into syrup from 10am to 2pm! Admission is $11 for adults and $9 for kids.
6472 Gulick Road
Naples, NY 14512
(585) 374-6160
rmsc.org/cumming-nature-center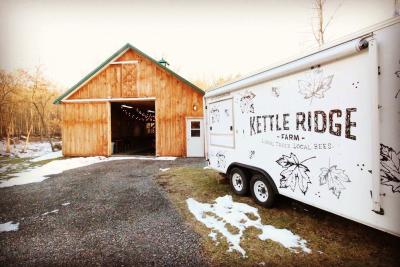 Kettle Ridge Farm
Joe and Chris Hurley are the father-son team behind Kettle Ridge Farm, which produces maple syrup and honey on over 70 acres in Victor, NY. Joe turned to farming in 2010 after a 25-year career as an accountant and author, while Chris joined the business in 2015 with a background in marketing. Together, they have built a growing agri-tourism enterprise known for its quality products and innovative programs, including the Adopt-A-Maple program. In addition to maple syrup and honey, Kettle Ridge Farm operates a pancake food truck, stages a popular fall festival called KettleFest and hosts a series of farm-to-table dinners. Maple Weekend offers the public an opportunity to see and hear about the farm's maple operation and enjoy a pancake breakfast.
Tour a lively "local trees, local bees" farm producing maple syrup, honey and log-grown shiitake mushrooms. Visit Kettle Ridge Farm between 10am and 4pm March 17-18 and 24-25 for a tasting of fresh maple syrup, pancake samples, and a tour of the sugarhouse and farm. Every hour, a group will depart for a hike through the maple stand, including stops at the shiitake mushroom log yard, honeybee apiary and chicken coop, so bring your hiking boots.
515 Log Cabin Road
Victor, NY 14564
(585) 217-7108
kettleridgefarm.com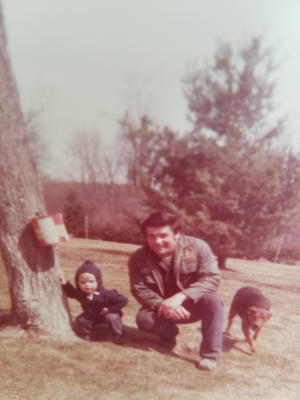 Schoff's Sugar Shack
Owner Chris Schoff started sugaring when he was about 2—check out the photo of him and his dad in the picture from March 1976. Chris officially started his own small business is 2000. The Schoffs have expanded their shack over the years and now make about 250 gallons of syrup annually. Schoff's three sons help him gather, process and bottle the syrup. 
Visit Schoff's Sugar Shack for Maple Weekend March 17-18 and 24-25, with an open house each day from 10am to 4pm and a pancake breakfast at the Thirsty Turtle on March 25. Don't miss out!
1064 Willis Hill Road
Victor, NY 14564
(585) 924-3769
schoffssugarshack.com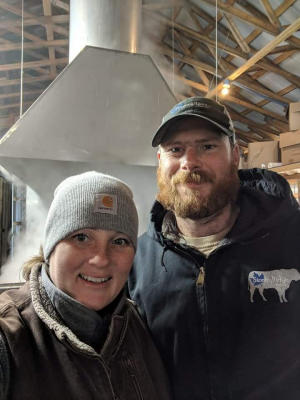 Stoney Ridge Farms

Stoney Ridge Farms is a 77-acre farm in the town of Farmington. Chris and Melinda met in 2004 and started selling sap from a small sugar bush of 400 taps while managing a black Angus cow/calf operation. Over the years, they grew to an over 6,500-tap operation and started making maple syrup in 2010. In 2013, they expanded the maple operation, built a new sugar house and installed state-of-the-art equipment, including an evaporator engineered and built by Chris. 
During Maple Weekends, the farm features an all-you-can-eat pancake breakfast with buckwheat and buttermilk pancakes.
There are several activities for families to enjoy, including sugar house tours, an explanation of the sap-to-syrup process, the history of making maple syrup and the farm's history. The farm also has a demo area where kids have the chance to drill and hammer a tap into a tree with assistance. The sugar house tour includes cooking demos with samples and tasting the different grades of maple syrup. Stoney Ridge will also have a petting zoo, monster truck and 4WD tractor on display from Barnyard Boggers. 
Head over to Stoney Ridge Farms for Maple Weekend festivities on March 17-18 and 24-25 for some family fun. The farm will be open from 9am to 4pm each day. A pancake breakfast will also be available each day from 9am to 2pm at $8 for adults and $5 for kids under 12.​
625 Country Road 28 14522
Palmyra, NY 14522
(585) 733-0814
rodasstoneyridgefarms.wordpress.com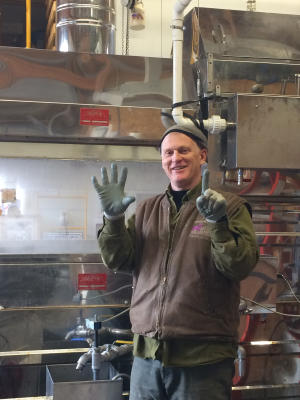 Wohlschlegel's Naples Maple Farm
A sense of generational family customs is conjured up, triggering the emotions and traditions of pure natural maple syrup. Maple syrup, with its varying hues and distinctive country kitchen aroma, is the same product it has always been. It's a symbol of simpler times, simple pleasures, family participation and hard work, bringing to mind "days of old."
A woods walk takes one back to the era of the Seneca people and early colonists who roamed these scenic forests, introducing the simplest methods of transforming one of the greatest wonders of the world: sap to maple syrup. Wohlschlegel's Naples Maple Farm's retail shop, along with its sparkling production area, blends a nostalgic ambiance with the spirit of premium-quality maple syrup and products.
Stop by the Wohlschlegel's Naples Maple Farm from 8am to 1pm March 17-18 and 24-25 for a pancake breakfast. From 10am to 4pm, walk through the woods to see the sap-gathering process and tour the sugarhouse where the magic of making maple syrup happens. Tours and wood walks are free, and breakfast prices range from $3 to $7.​
8064 Coates Road
Naples, NY 14512
(585) 775-7770
fingerlakesbulkmaplesyrup.com