When Paula Jankowski from England sent us a message, wondering what there was to do in winter in the Finger Lakes, we couldn't wait to share all our favorites spots! Carol and our intern, Taylor, got right to work, putting together a list of "must see" stops. Paula and her husband enjoyed their vacation in the Finger Lakes, and then sent Carol a lovely note, describing the fun adventures they found. We couldn't pass up the opportunity to ask Paula if she would take some time to put her thoughts in a blog for us, as well as share some of her travel pictures. She agreed! Read below and enjoy our world from the perspective of someone who lives thousands of miles away. 
What started as a visit to David's 96-year-old grandma in Ohio led to a mini month-long tour of the US. Several destinations were already decided—Boston and Toronto being two of them—but that would have been a long drive, so I looked for destinations between the two. "What about the Finger Lakes?" I asked David. He had never heard of it; when people from Europe think of a visit to New York, they think of New York City and rarely travel beyond.
It looked pretty—they had snow! (I wanted a snowy holiday. Here in the south of England, snow is rare. Winter here = grey and wet.) I'm a woman in my 40s and I wanted to make snow angels. The photos and research got exciting. Snow and wine, could this get any better?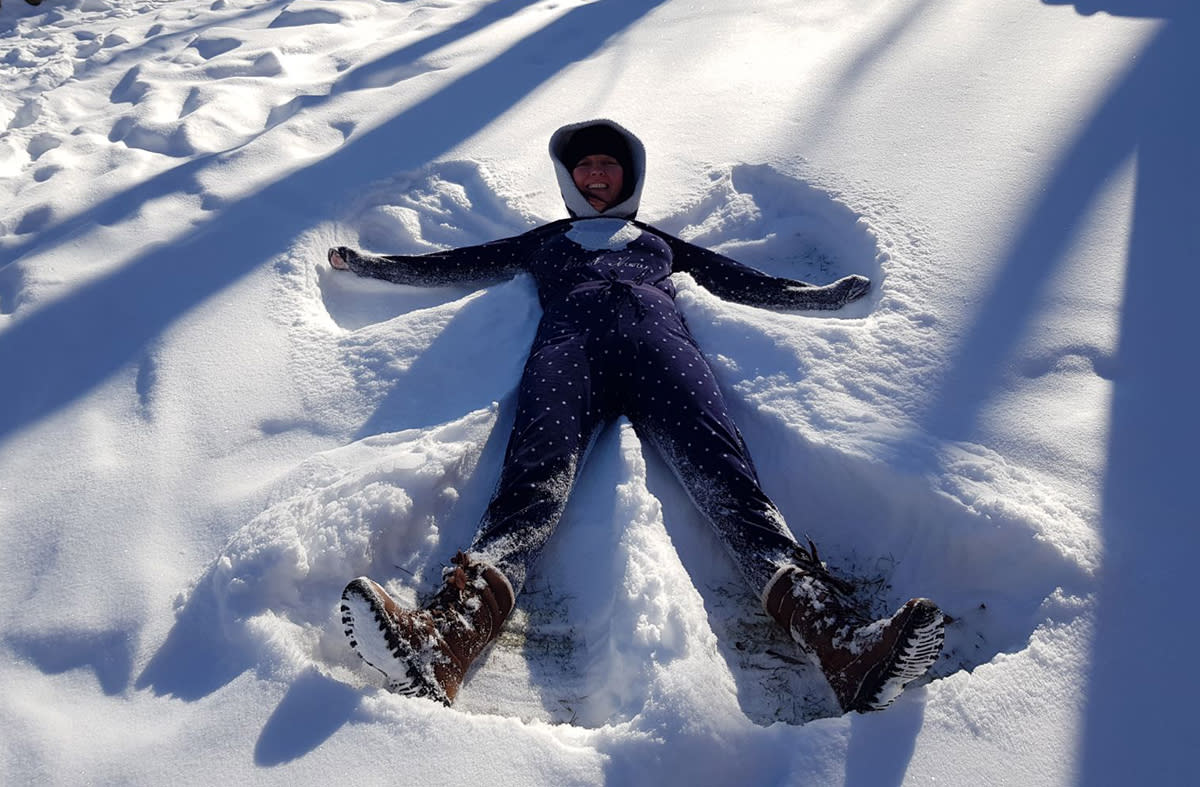 After much searching, a cabin was found that met my criteria: a log fire, cozy and just outside the town of Naples. Secluded, but close enough to the town. Booked it—snow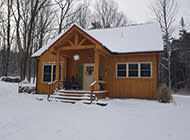 angels were looking promising, but what if everything was shut? It was a new year and off season, and I started to worry that everything would be closed, so I contacted the Canandaigua tourist office and the amazing Carol went above and beyond to give me lists of what was open and eased my worries of starving to death and arriving to a ghost town.
December 30, we arrive, fields of snow-covered grape vines on the drive to the cabin, everything looking a picture of perfection. Being hit by the beauty of the area was quite emotional. Our cabin was beautiful, the fire was burning when we arrived, everything was snow-covered … I had picked the perfect destination for us.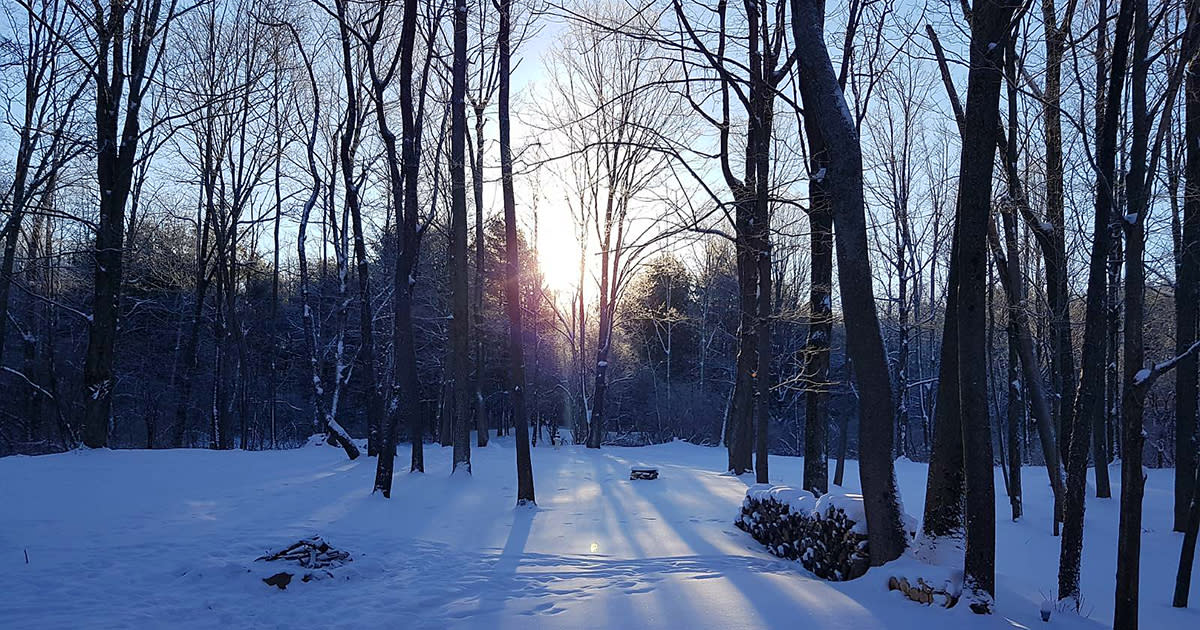 The following day was time to explore and check out some of Carol's recommendations. Naples was what I imagined a small American town to be (I get excited seeing a porch)—lovely little
shops, everything so different to the UK, visited the grocery store and liquor store for provisions, browsed the gift shop that had such wonderful things in it you spent ages looking around, an amazing brunch at Roots, fantastic cranberry apple French toast for me, and bacon, egg and Brussels sprouts hash for Mr. J. Great service and quirky surroundings in the blue and purple house. Also very conveniently located next door to Inspire Moore winery and vineyard, so I couldn't not pop in, could I? Sampled some lovely wines and port, didn't feel pressured to buy, but did walk away with six bottles of deliciousness.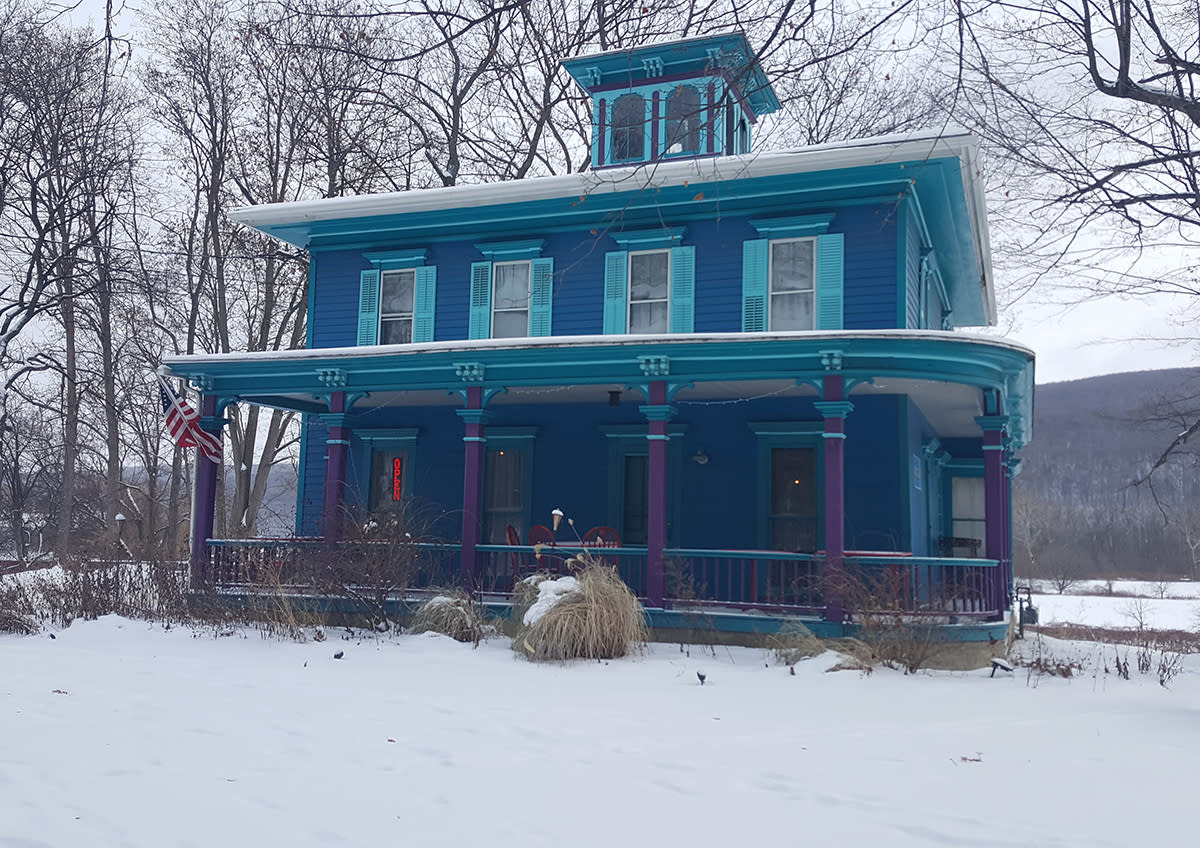 We visited Grimes Glen, very frozen, snow-covered and beautiful. Didn't see another person—winter visiting means you get to experience these little gems without other people, and having it all to yourself is magical.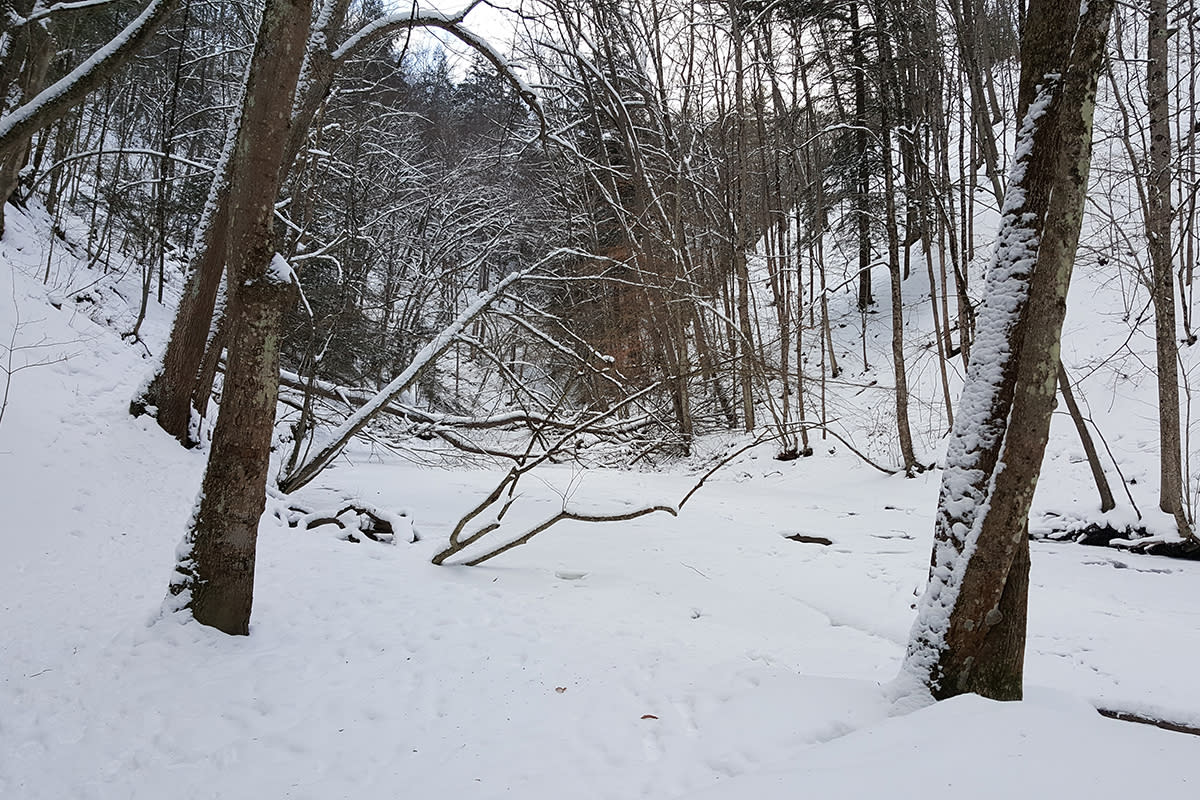 Stocked up on pie, ready for New Year's Day dinner at Monica's pie shop: a chicken pot pie and a cherry crumb, because you can never have too much pie.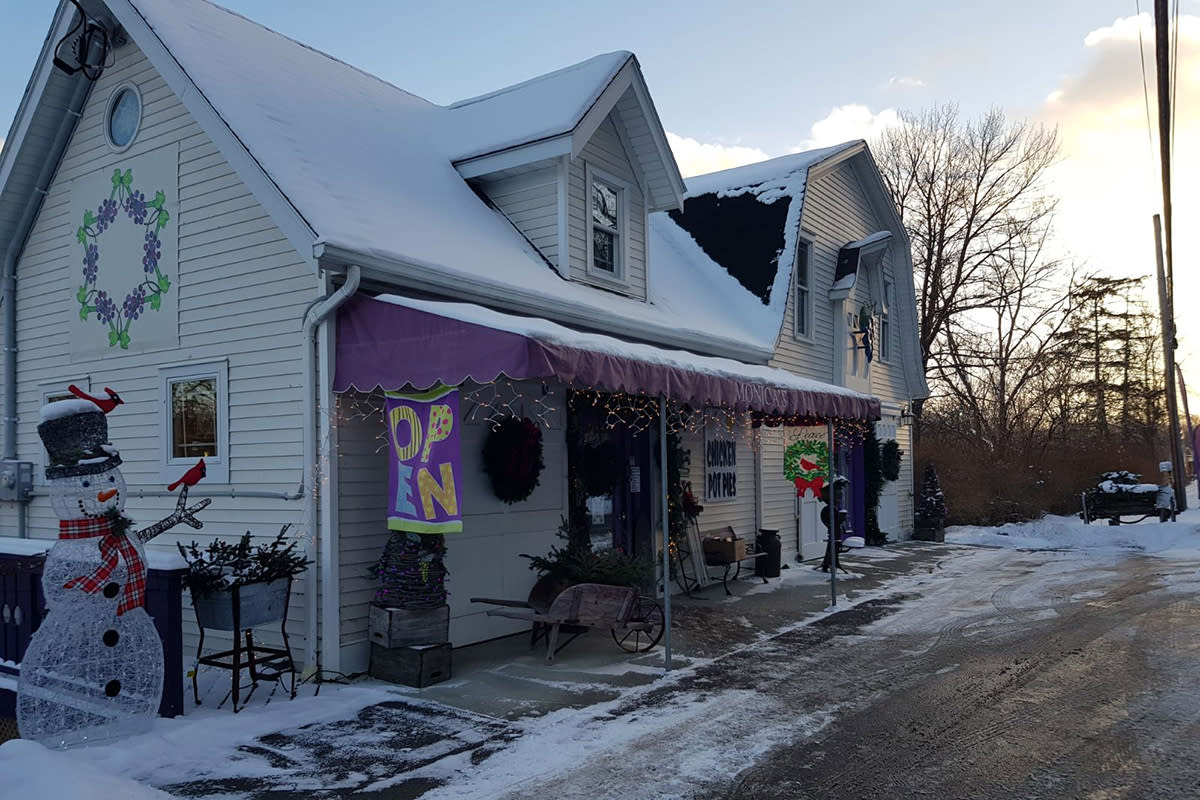 It was then dinner time, so a drive to Brew and Brats for dinner, Mr. J approved of the sauerkraut. (He's half German, so his standards are high.) Really good sausages and a nice relaxing dinner, chatted to the staff who gave us more recommendations and were incredibly friendly.
Our new year was quiet and well stocked with food and wine, and on New Year's Day morning, this crazy English woman ran outside in her pajamas and made snow angels. It was brilliant—cold, but brilliant.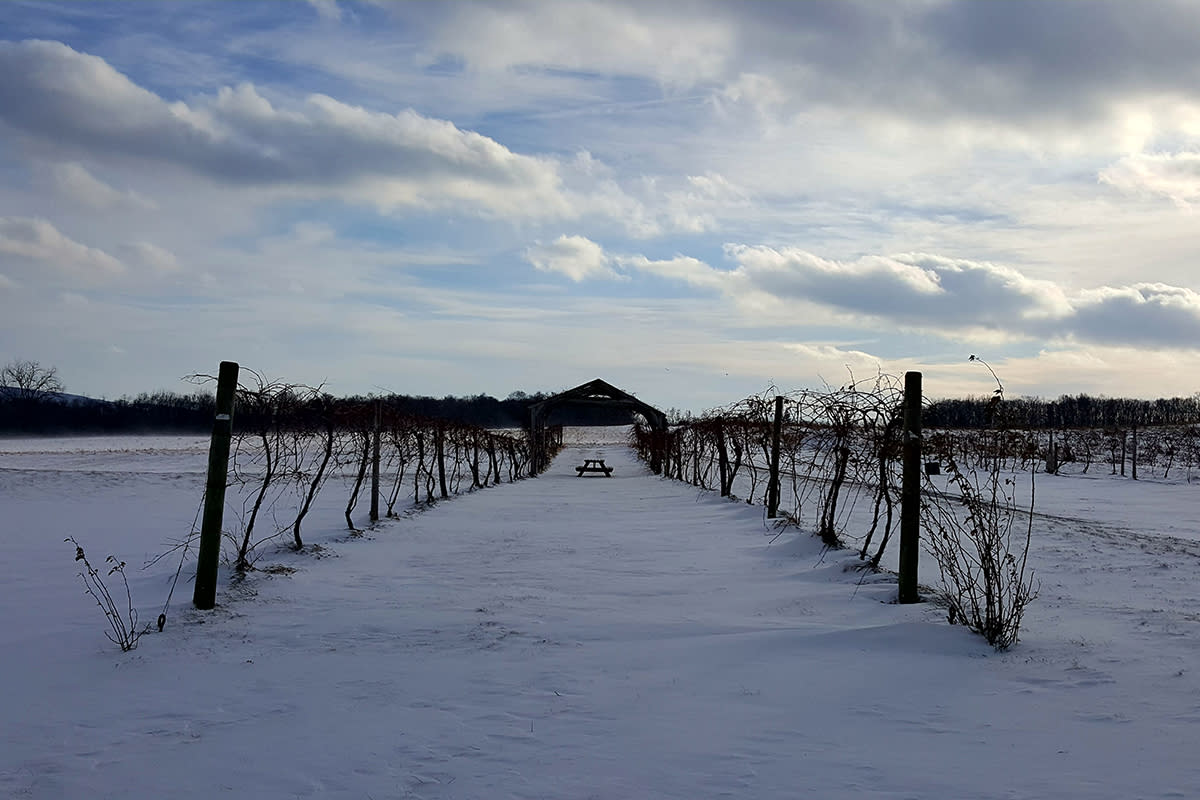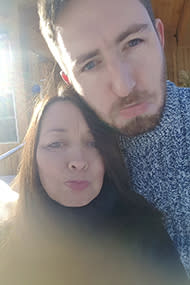 Next we ventured over to Penn Yan—great pancakes and corned beef hash at the diner, visited Hunt Country Vineyards for another wine sampling, because we were passing and it's WINE! Very good ice wine.
We didn't want to leave the Finger Lakes and were genuinely sad when it was time to leave—going in winter was magical. A lot less busy than the summer, so we got to chat to people, tasting rooms were quiet, restaurants had tables, and the lakes and countryside were breathtaking. What was a destination we had never heard of has become a place we can't wait to visit again. Great people, great food, great wine and snow angels.