The Finger Lakes are home to many small, close-knit communities, the fabric of which is made from the people who inhabit them, yes, but also the small businesses that bring unique offerings to the area.  Here at the Finger Lakes Visitors Connection, we are so happy to celebrate those small businesses that attract our visitors, make this area a great place to live, and keep our communities thriving.  So, in honor of National Small Business Week – which is celebrating 50 years in 2013 - we'd like to highlight some of our Insiders' favorite small businesses!
Today I'm heading to Naples and you'll be surprised by the variety of businesses! My plan is to focus on something for everyone, so here goes with my eclectic list of small business favorites. The cool thing is, most of these are in the same area of town!
My mini "tour" starts with a bit of a surprise: Happy Hour at a quilting shop. Yes, you read that right, but it's not what you
think. On the second Saturday of every month, Carriage House Quilts at 201 N. Main Street holds a Happy Hour when quilters can spend an hour learning new techniques for quilting or watching demos by owner Dianne Miller or her employees. If you're a crafter, this will make you happy – thus, Happy Hour. When you're not at Happy Hour, you can pick up some fabrics, patterns or other notions and dive into this unique hobby.
If you were to visit my house, one thing you'd notice is that I love antiques. That's why Vintage & More Antiques (also at 201 N. Main St.) is a favorite small business for me. Owner Gloria Schwingle's passion for antiques and the history behind them comes alive as she shows people how to use the different items by thinking outside the box to incorporate the antique piece into their style. There's a lot of charm in the things from the past. No doubt this will be a regular stop when I have visitors from out of town.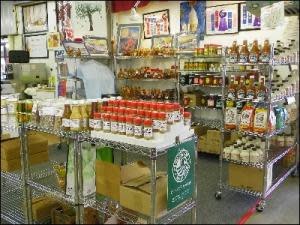 Of course, with my sweet tooth, I'm a natural to highlight a business that could use the word sweet in the description of all of its products: Clute's Maple Products at 405 Clute Road. This third generation family maple farm specializes in maple cream, maple molded sugar, maple barbecue sauce, maple mustard (gourmet class) and, of course, maple syrup. During the week you can visit their store in the sugar house and perhaps pick up a gift of maple syrup in fancy glass bottles for that "hard-to-buy-for" person in your life. (Yup, I have a few of those!)  On Saturdays the store isn't open, but I've visited their booth at the Windmill Farm Craft Market on Rte. 14A just outside of Penn Yan.
We are in lake country, so of course fishing is on the agenda for many people who live or visit here. My grandfather was a big fisherman, and I remember that the contents of his tackle box were sacred. I imagine it's the same for any avid fisherman, which is why a visit to Sutton Fishing Lure Company at 120 S. Main St. is a must for them.  They manufacture lures, but they also have a retail shop where you can pick out just the right lure to reel in the "big one".  Everyone should leave the Finger Lakes with a fish tale; I know Grandpa had quite a few stories!
"One hundred year old signs made daily".  This sign hangs outside Rustic Signs on North Main Street, and it makes me chuckle every time I see it. Finally, I had to stop in one day to see just what this business is about. (It turns out I'm not the only one the sign lures in. According to the owner's wife, many people stop to take photos next to it.) If, like me, you've been looking for someone who could make a personalized sign for you (I needed two name signs for my horses' stalls), then this is your stop. From the fun to the practical, you can buy a sign or other personalized item for your use or to give as a gift.
While you're doing all of this shopping, you'll probably get hungry, so you could stop in to get something to eat at Bob and Ruth's Vineyard Restaurant, Jules' Southwest Kitchen, Roots Cafe or the Redwood Restaurant. (All are located along the main street through town.) They are only a handful of the many local eateries that will satisfy your palate.
This is a tiny sampling of the wonderful small businesses in Naples. I guarantee if you stop in to any of them you won't be treated as just another person like you would in the big box stores; you'll be treated as a friend. And why wouldn't you want to support your friends' businesses?