When visitors ask us about great places to enjoy the view of hills and water in the Finger Lakes, we often suggest they check out the County Road 12 Overlook in South Bristol and the adjacent Carolabarb Park. This overlook, voted a few years back by a local poll as the most scenic spot in Ontario County, is a fantastic place to gaze northward at Canandaigua Lake, to see the splendor of Bare Hill, to take some photos, and to have a picnic or simply a time out.
Starting April 11, the county will be installing a cross-culvert on County Road 12 just south of Powell Hill Road, and County Road 12 will be closed to through traffic. The work should be completed by September 05.
Due to this road construction, it's going to be just a little more difficult to get to that view. Do not dismay, you do not have to forfeit the iconic view that makes County Road 12 Overlook so popular.
Here are some alternate routes: 
Driving a large vehicle or bus heading south on State Route 21: To avoid the hairpins onto either Griesa Hill Road or County Road 12 from State Route 21, proceed into the village of Naples, where you'll have an opportunity to safely turn your vehicle around so you are heading north on State Route 21. (See our list of "Other Great Stops on Your Detour" below). As you head north out of Naples, bear left (north) onto County Road 12 to reach the overlook.
From State Route 21 in Bristol Springs heading south: If you are feeling adventurous and like steep, winding roads, turn right (north) on Griesa Hill Road. This is a very sharp turn, so be careful.  At the top of Griesa Hill, turn right again (north) on County Road 12. The overlook will soon appear on the right (east) side of the road. The view will still be there. The picnic tables will be waiting for some company. Alternately, you can skip Griesa Hill and turn right (north) onto County Road 12 at its southern intersection with State Route 21. This, too, is a hairpin turn, so proceed with caution.
From State Route 21 in Naples heading north: Head north on State Route 21 and then bear left (north) onto County Road 12 to the overlook. If you are continuing north, return to State Route 21 by heading south on County Road 12, then turn left (east) on Griesa Hill Road. At the end of Griesa, turn left (north) onto State Route 21.  
From State Route 64 in Bristol Springs heading south: Turn right (west) on Gannett Hill Road. Follow Gannett Hill Road as it takes a sharp turn south (left). Turn left (east) on Oakley Road, then turn left (north) on County Road 12 to the overlook.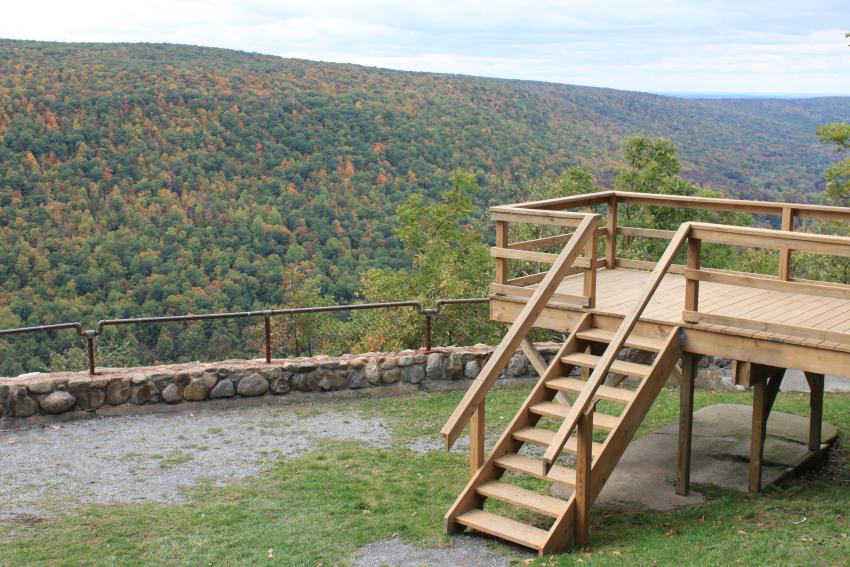 If you decide that you want another great view, here's an idea! After you turn onto Gannett Hill Road, follow the signs to Ontario County Park. Once you enter the park, follow the signs to the Jump Off. Park your car and take a short stroll to a fabulous view of the Bristol Hills. Here, you're also on the Finger Lakes Trail and can hike and walk along. You're at one of the highest points in Ontario County!
Best ways to enjoy the views at County Road 12 Overlook and The Jump Off? Bring binoculars and a camera, pack a picnic, and don't forget dessert: a grape pie from Naples! Share your photos with other Finger Lakes explorers via Facebook and Instagram using the hashtag #FLXperience!
Other great stops on your detour! 
Here are some other places to check out along our scenic "detour" route!
In Bristol Springs 
Arbor Hill Grapery: A tasting room, gourmet food shop and gift shop all in one. One of five locations on the Canandaigua Lake Wine Trail.
Brew & Brats at Arbor Hill: Casual eatery featuring local sausages, beers and wines.
In Woodville
Hi Tor Wildlife Management Area: A great place for wildlife viewing, especially songbirds and marshland birds.
In Naples
Artizanns: Great place to shop for artwork, crafts, jewelry and gifts made by regional artists.
Hazlitt's Red Cat Cellars: Enjoy a wine tasting or slushie at this Wine Trail location.
Inspire Moore Winery: More great wine in a rustic, relaxed atmosphere - another Wine Trail stop.
Roots Café: Farm-to-table cuisine next door to Inspire Moore Winery. 
Naples Hotel & The Social Restaurant & Taproom: Historic hotel with a friendly restaurant and bar. 
Grimes Glen Park: Take a gentle walk through the creek to see dramatic waterfalls. 4703 Vine Street
Bristol Valley Theater: Professional theater offering a full summer season of plays and musicals.
Joseph's Wayside Market: An open-air farm market offering locally grown produce, flowers, baked goods and furniture. Featuring Jeni's Grape Pies.
Cindy's Pies: Grape pie vendor sells from her front porch. 5 Academy Street.

Sometimes the road less traveled is more rewarding than you could ever imagine. Drive safely and enjoy!