Most days at my job as president of the Finger Lakes Visitors Connection, I earn a grade of F. 
And that's a good thing. 
Why? Because, as it should be tourism is fun, fulfilling, and full of new friends. That's a lot of f-words --- and people still want my job.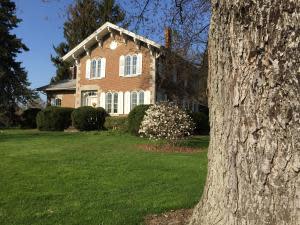 During National Tourism Week, which was May 2-10, the Finger Lakes Visitors Connection l spent five solid days hosting 60 travel writers, photojournalists and guests from the Midwest Travel Writers Association. We guided them to alpacas in West Bloomfield and wineries on Seneca Lake, we showed them Victorian architecture in Clifton Springs and cobblestone houses in Gorham. These travel writers were hunting for great stories for their travel readers on what makes the Finger Lakes a distinctive vacation spot.
The best thing about my job during these times is what I learn about the area and hearing from people who have a passion for the stories they relay. Tidbits of knowledge from Quaker history at the 1816 Meetinghouse in Farmington to tips about nature photography at Grimes Glen were shared.
We went ghost hunting at the Naples Hotel, sampling sausages and beer at Brew and Brats and even held our own little grape pie judging contest in Canandaigua. Historic characters Mary Clark Thompson and Frederick Ferris Thompson greeted us at their Sonnenberg home and we got an insider's hard-hat tour of thesoon-to-be-opened Seneca Art and Culture Center at Ganondagan, and we were treated like royalty at Belhurst Castle.
My job also has some other aspects that are graded F. These tasks are fast-paced, frenzied, and requires fortitude as days sometimes start at 5 in the morning as we lead a sunrise photo tour and don't end until 11 at night as we have great conversations with travel writers over after-dinner drinks. 
Still want my job?
National Tourism Week starts the high season for us in the Finger Lakes. There will be many more weeks like this.
Beyond the fun and the frenzy of this past week, it's important for people to know that this tourism stuff is big business. For an area to thrive as a tourism destination, it must have dedicated, enthusiastic people who help make the guest experience worthy of a story.
Word of mouth is one of the greatest promotional assets we have, particularly in the age of social media.  Whether that story is retold in a blog, a magazine article, a 140-character Twitter post or in an Instagram picture, we call it success. If in retelling of the story our visitors think, "I want that job" or "I want to live in the Finger Lakes," then we have earned our F grade.
But, you still can't have my job!
P.S. Check out these links to some of the stories and the posts and the pictures of what all my new friends are saying about the Finger Lakes!  Gosh, with my English degree and photography experience, I wonder if maybe I want their job!  (Just kidding!)
One foodie-focused writer made this sweet video about her discoveries in the Finger Lakes.
This blog's author talks about his personal connection with the Iroquois White Corn Project.
This blog sings the praises of the Inn on the Lake.