Spring forward with me in the Finger Lakes this March.  It's truly a celebration.  Sure, we lose an hour, but it's a small price to pay for the extended daylight we receive each day.  No more darkness as we walk in and walk out of work.  Let there be light!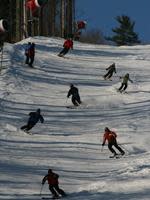 Finger Lakes winters.  We love them.  We really do.  (Perhaps some of us snow-lovers enjoy it just a bit more than others, but still.)  The snow paints the landscape beautifully with its white cover, the abundance of cozy corners and fireplaces suddenly become very prominent, and for those of us that ski or snowboard, the thrill of Bristol Mountain Winter Resort is within reach.
Yet there comes a point where we're ready.  We're ready to move on – to mornings with a bit warmer breeze, to sunny afternoons, to the outdoor activities we're either not brave enough to endure during the winter or we just can't – hiking, biking, kayaking, and so much more.  We welcome the snow during December as we prepare for the holidays and we rejoice in it as the calendar turns to the new year – but there comes a time when we're ready to cut ties with snow, cold, and brushing our cars off.
So, what am I looking forward to most this spring?  I'm looking forward to dusting off my hiking boots and hitting the trails at Ganondagan. I'm looking forward to downtown shopping in Canandaigua without major temperature changes between the outdoors and the stores. I'm looking forward to a walk along the pier in Geneva, and, perhaps most of all, I'm looking forward to setting my calendar for the beginning of my ice cream shop tours around Ontario County.
I've been anticipating this all winter, as I've had to bundle up with a heated blanket, earmuffs and slippers to eat my ice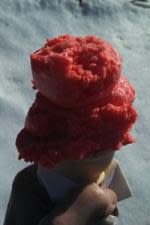 cream at night.  But now, I can finally go back to making it a social activity – no heated blanket necessary!  My plan includes a definite stop at Lynnie Lou's in Naples, where I can immediately work that ice cream off by renting a bike and taking a ride.  But it doesn't end there.  I'm on a quest to experience ice cream in every community in Ontario County!  Geneva: Long Pier Ice Cream; Victor: Papa Jack's; Canandaigua: Scoops (or, if I'm feeling especially Italian that day, Muar House Café for some delicious gelato!); Cheshire: A's Sweets & Treats; Phelps: Old Mill Hot Dog Stand - and the list goes on (and on).  My fellow Insiders and I will be out there.  In fact, our fearless leader, Val, got out for her "first ice cream of the season" yesterday – a wonderfully colored watermelon sherbet – looks great against the snow, right?
So, I may have gone off on a typical ice cream tangent, but it all comes back to one thing.  I'm so happy to be springing forward in the Finger Lakes!  But, here's the thing.  Perhaps I shouldn't "leap forward" so fast.  Because in a few months, when we're hanging out in 80-degree weather, I'll truly be missing all that winter has to offer.  But then, that's the beauty of a four-season destination.  So, while there's still snow on the ground and a chill in the air, embrace the last of winter in the Finger Lakes with your skis, your hot chocolate, and your snowbrush!