The Finger Lakes Region produces a bounty of fruits and vegetables each summer and fall, and there are myriad farm stands, farmers markets and local grocers who sell that fresh produce. What people may not realize in these cold winter months is that there is still an opportunity to buy local food products directly from farmers and producers right in downtown Canandaigua! From November through May, the Canandaigua Farmers Market takes place in a parking lot behind Byrne Dairy and The Dalai Java on the west side of Main Street every other Saturday (February 15, March 1, March 15, etc.) from 10 to 11 a.m. Below is just a sampling of what some of the many vendors have to offer.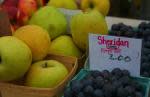 Fisher Hill Farms has a wide array of root vegetables and other storage crops, but they also sell fresh salad greens harvested from a greenhouse. If you're really looking for a burst of summer, be sure to check out their Sheridan grapes. I can attest that they are quite good.
Wohlschlegel's Naples Maple Farm not only sells maple syrup in whatever quantity you're looking for, but they also have specialty products like maple cream (great on toast!) and granulated maple sugar.

Kitchen Blessings sells cookies, pastries, quick breads and other tasty treats.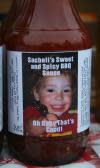 Sacheli's Franjo Farms & Foods sells mustard, ketchup, barbecue sauce and—believe or it or not—onion jelly!

To top it all off, there is Abby, the market dog, who will greet you when you come to the market!

There are many other vendors selling local meat, produce and jams—the list goes on and on! You can sign up with the Canandaigua Farmers Market to get an email each Friday before the market to see which vendors will be there. (This is also a great way to remember which Saturday the market is.)

There is no reason to sit inside during a Finger Lakes winter and hope for spring! Stop by the next winter farmers market and—after you have purchased some local vegetables, homemade barbecue sauce or a tasty pastry—you can warm up with a steaming hot beverage from The Dalai Java. What are you waiting for? Can't you taste that delicious food already?