Christmas is almost here in the Finger Lakes. That means it's time for the Finger Lakes 12 Days Before Christmas! Over the next 12 days, we'll be sharing our favorite gift ideas that are either made or experienced right here. Make sure to visit us each day you're doing your last-minute shopping so you don't miss out on a great Finger Lakes gift!
On the 1st day before a Finger Lakes Christmas
White Corn from Ganondagan
When the French destroyed Ganondagan in 1687, they destroyed over 500,000 bushels of white corn in the granary on Fort Hill. But, white corn has recently come back in a big way at Ganondagan. Stop by the Native American Historic Site and take home some bags of whole corn, hand-roasted corn and corn flour!
On the 2nd day before a Finger Lakes Christmas
Wizard of Clay Bristoleaf pottery
The most unique product at Wizard of Clay is Bristoleaf pottery, decorated with delicate imprints from real leaves picked daily during the summer in the surrounding hills! The Wizards produce a limited number of pieces each year, ensuring that this unique and collectable pottery will increase in value as the seasons pass.
On the 3rd day before a Finger Lakes Christmas
A gift from Artizanns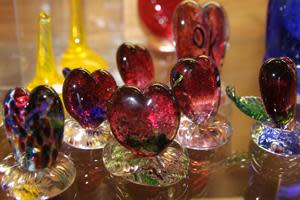 More than 200 Finger Lakes artisans present everything from pottery, hand-blown glass, wood works, sculptures, metal, paintings, photography, jewelry, fabric art, all natural candles, soaps and sundries, local musicians and literary artists' works, plus a pantry full of wonderful food confections produced locally!
On the 4th day before a Finger Lakes Christmas
Beauty at the Country Ewe

www.countryewe.com

You'll be sure to find a wide selection of beautiful jewelry and upscale clothing at this boutique on Main Street in Canandaigua. The Country Ewe features high-end brands such as Brighton Accessories, Frank Lyman Design, Joseph Ribkoff and UGG boots to get you through the snowy winter!
On the 5th day before a Finger Lakes Christmas
Elegance at Eastview

www.eastview.com

Did you know the Finger Lakes is home to a brand new 140,000 square-foot Von Maur department store at Eastview Mall? And, it's the only northeast location for the high-end store. Also just opened at Eastview is Mann's Jewelers, one of the finest jewelers in the Finger Lakes. Christmas seems like the perfect time for a new pair of earrings or a watch!
 
On the 6th day before a Finger Lakes Christmas
One-of-a-kind from Finger Lakes Gifts and Lounge


www.fingerlakesgiftsandlounge.com

Nothing says Finger Lakes like a hand-crafted gift from a regional artisan. Stop by Finger Lakes Gifts and Lounge and browse the stunning Finger Lakes photography, stained glass, locally-crafted soaps, candles, shampoos and much more.
On the 7th day before a Finger Lakes Christmas
Finger Lakes oils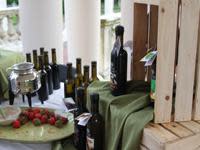 www.folivers.com
 
F. Oliver's has the finest and freshest selection of ultra-premium oils and vinegars around and features several local food products. Finger Lakes Fabulous Squash Seed Oil and Finger Lakes Good-For-You Grape Seed Oil are unique artisanal oils that can only be found in the Finger Lakes!
 
On the 8th day before a Finger Lakes Christmas
A spa experience

www.parkwesthairdesignandspa.com
www.belhurst.com/spa

The Finger Lakes is the ultimate destination for relaxation, and a gift certificate to a local spa will make a great gift this holiday season! Park West Spa in Canandaigua and Isabella Spa at Belhurst in Geneva offer a variety of services including grape-themed spa treatments. Grapes and relaxing at the spa - what else could you ask for in the Finger Lakes!?
On the 9th day before a Finger Lakes Christmas
Alpaca sweaters and more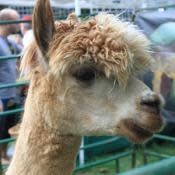 www.alpacasetc.net
www.lazyacrealpacas.com
Ever pet an alpaca? Take it from us, they are so soft! Stop by Lazy Acre Alpacas or Golden Oak Alpacas and pick up some alpaca products for the cold winter months. They've got socks, throws, sweaters, and even stuffed teddy bears for the kids! We think the socks make a perfect stocking stuffer!
On the 10th day before a Finger Lakes Christmas
Cycling in the Finger Lakes

www.rvebike.com
www.genevabikes.com
It might be cold and snowy, but before we know it spring will be here, and the open country roads will be awaiting a cycling adventure! There's nothing better than a long bicycle ride around the lake or through the rolling farmland of the Finger Lakes. A gift certificate to RV&E Bike and Skate in Canandaigua or the Geneva Bicycle Center is the perfect present for cycling enthusiasts, or those just getting into the sport.
On the 11th day before a Finger Lakes Christmas
Skiing at Bristol Mountain

www.bristolmountain.com
With it being so snowy this winter, some fun at Bristol Mountain is a perfect gift from Santa. The resort has more than 30 trails, two terrain parks and a 1,200 foot vertical - the highest between the Adirondacks and the Rockies! Bristol Mountain gift cards can be used for anything from new skis at the shop to lift tickets for the whole family!
On the 12th day before a Finger Lakes Christmas
Finger Lakes wine

www.canandaiguawinetrail.com
www.senecalakewine.com
What is Christmas without a wonderful Finger Lakes wine at dinner? Any stop along the Canandaigua or Seneca Lake is a sure bet to find the right wine just for you. And, an ice wine to go with dessert is a must! Also, Canandaigua Wine Trail passports are available at each winery along the trail, and make the perfect gift this holiday season.