Whenever I travel, one of the first things on my to-do list is to see where the locals shop for food. Of course I like eating at restaurants, but I love exploring the home cooking of different destinations even more, and a cook is only as good as the fresh, high-quality ingredients she buys.
Grocery stores, bakeries and ethnic markets are a year-round find, but in summer, the farmers markets are an open-air sampler plate not only of a community's culinary bounty and inclinations but also of its cultural character.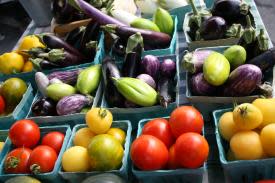 Even if you, Finger Lakes visitor, are relying on restaurants for most of your meals, farmers markets are a worthwhile stop for healthy snacks, picnics and desserts, as well as provisions for main meals that you might prepare at a campsite, vacation rental or at the home of a gracious host or friend.
In Ontario County, we are lucky to have amazingly fertile soils and incredibly talented farmers, as well as seven farmers markets that take place on five different days of the week.
Many farmers markets have prepared food vendors on site that will make breakfast, lunch or dinner for you, as well as live entertainment that makes it doubly worth the trouble to seek them out. Plus, they are typically located in the heart of the village or town, with other worthwhile destinations or activities nearby. 
Below is a list of Ontario County farmers markets, with a suggested activity to make your outing round out the morning, afternoon or early evening.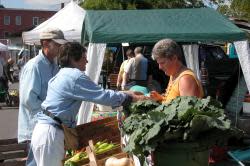 Canandaigua Farmers Market
Corner of Mill and Beeman Street in Canandaigua
Saturdays, 8:30 am to 12:30 pm
June 6 to Oct. 31, 2015
What else to do: After shopping at the market, explore the shops, galleries and restaurants along Canandaigua's quaint Main Street.
Canandaigua VA Farmers Market
VA Hospital Parking Lot on Fort Hill Avenue in Canandaigua
Tuesdays, 1:30 to 5 pm
June 16 to October 13, 2015
What else to do: The VA Farmers Market is located on the VA campus, which is surrounded by charming, historic neighborhood. Stroll the nearby residential streets and admire Canandaigua's homes and gardens. I especially love to oggle at the homes on Gorham, Charlotte and Gibson streets. This farmers market is also within walking distance to Sonnenberg Gardens & Mansion State Historic Site.
Cheshire Union Farmers Market
4244 State Rt. 21 in Canandaigua
Thursdays, 2 to 6 pm
June 18 to September 24, 2015
What else to do: This market is at the Cheshire Union Gifts and Antique Center, an old school house that has been converted to a treasure trove. Need I say more?
Clifton Springs Farmers Market
Corner of Kendall St. and Railroad Ave. in Clifton Springs
Fridays, 3 to 6 pm.
June 5 to September 25, 2015
What else to do: Before shopping, explore the Foster Cottage Museum, home of Dr. Henry Foster, who was all about spreading the gospel of the Clifton Springs Water Cure. 
City of Geneva Farmers Market
Exchange Street Parking Lot (across from Lyon's Bank) in Geneva
Thursdays,7:30 am to 1 pm
June 11 to October 22, 2015
What else to do: Take a walk and a picnic along the Seneca Lake lakefront path. 
Honeoye Old Village Market
Main Street in Honeoye, NY
Saturdays, 9 am to 1 pm
June 27 to September 19, 2015
What else to do: Pack a picnic and eat it at Sandy Bottom Beach Park along the shores of Honeoye Lake.
Victor Farmers Market
Village Hall parking lot at 60 East Main Street in Victor
Wednesdays, 3 to 7 pm
June 3 to October 28, 2015
What else to do: Get your shopping done early and head to The VB Brewery, open until 7 pm, for a tasting.