What's New is an occasional feature to our Insiders Blog. Our mission is to keep you up to date on new events, places, and services as they relate to your Finger Lakes vacation in Ontario County. This month, we welcome gelato, SUP and street yoga and a new store featuring great foods to pack on a picnic.
Black Buggy Bulk Foods offers a variety of pantry goods. The Finger Lakes is home to a sizable Mennonite community, and those households often shop at stores like the recently opened Black Buggy, which sells a wide variety of pantry goods, baked goods, and deli items. Packing for a picnic? Come here for sandwiches, cookies, juices, nuts, fruits and snacks. 3649 State Routes 5 & 20, Canandaigua. 585-905-3591.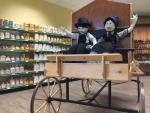 Om House of Yoga & Finger Lakes Meditation & Wellness Center offers free Sunday morning yoga classes in Geneva. Okay, this one isn't new, as Om owner and instructor Evangeline Reale has been teaching these free community classes for three seasons, but it's so good we thought you should know about it. Every Sunday at 9 a.m. through August, she will lead a one-hour yoga class for all levels and ages. Classes take place either on Linden Street, or at the gazebo next to the Geneva Visitors & Events Center at 35 Lake Shore Drive, where you'll have a down dog view of Seneca Lake. Bring your own mat or borrow one from Om. Check the Om House of Yoga Facebook page to find whether the class takes place on Linden Street or by the lake, or call 315-521-4933.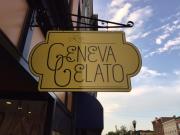 Geneva Gelato is open for sweet summer treats. While Italy may have created gelato, this new Geneva shop claims to have perfected it. We won't argue! Geneva Gelato offers artisan gelato and sorbeto in cups or cones or as sundaes, as well as biscotti, scones, cookies, coffee and gelato popsicles.  The shop has comfortable seating inside and on the sidewalk. 504 Exchange Street, Geneva, 315-325-4921.
Grounded by Yoga Studios has partnered with Roseland Wake Park for standup paddleboard yoga. Want another great place to practice yoga? How about on a standup paddleboard! Grounded by Yoga, a Bloomfield studio, leads classes on the water at Roseland Wake Park. Check here for the schedule. Registration is required. Roseland is at 250 Eastern Boulevard in Canandaigua.