Finger Lakes Races—Running, Biking & Outdoor Events
Let Your Competitive Spirit Soar!
The competitive spirit is thriving in the Finger Lakes, and we can prove it with the variety of events in which you can either compete or enjoy as a spectator. We have just the outdoor adventure you're looking for.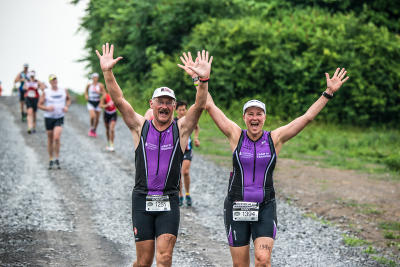 One of the premier events, the Musselman Triathlon, takes place the second weekend in July. Drawing competitors from all around the world, it's as much fun to watch as it is to participate. For those who like to compete, but not at that level, there are plenty of other bike races and activities throughout the area to get in on such as the Western New York Bike Fest that takes place in June in Victor. It is a celebration of all types of biking including mountain, road riding, adaptive cycling, racing and cruising, from beginners to advanced.
If fishing is your game, then welcome to Seneca Lake, the Lake Trout Capital of the World. The fourth weekend in May, Geneva hosts the National Lake Trout Derby, one of the biggest competitions of its kind anywhere.
A unique competition is the Scottish Highland Games that takes place during Bristol Mountain's Fall Festival on Columbus Day Weekend. You'll be fascinated by not only the various games and events but the depth of competitiveness, as well.
Don't miss your opportunity to come to the Finger Lakes and compete or to cheer others on.