Maple Weekend 2019 is March 23 - 24 & 30 - 31!
March means maple, especially for Ontario County in the Finger Lakes! During Maple Weekend maple farms across New York State invite visitors to their "sugar houses" to experience firsthand how pure, mouth-watering maple syrup and other related products are made. Visitors also have the opportunity to enjoy fun, family-friendly activities, taste New York's freshest syrup and purchase maple products. 
Ontario County Sugarmakers
Wohlschlegel's Naples Maple Farm – Naples
Pancake breakfast (8 a.m. to 1 p.m.) & Open House (8 a.m. to 4 p.m.) both weekends. Free guided tours through the sugarbush and each station of the state-of-the-art sugarhouse, maple hot dogs in the afternoon and many maple products for sale in retail store such as Bourbon Barrel Aged Maple Syrup, maple cream spread, maple BBQ Sauce and four flavors of maple syrup. 
Cumming Nature Center - Naples
41st annual Maple Sugaring and Pancake Breakfast weekend. Open 9 a.m. to 5 p.m., breakfast 9 a.m. to 1 p.m. Educational demonstrations from 10 a.m. to 2 p.m.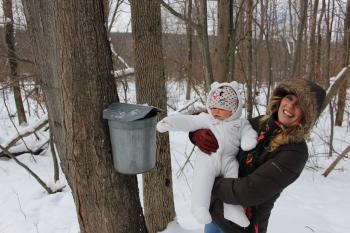 Kettle Ridge Farm – Victor
Open house, tours of the woods, demonstrations in the sugarhouse, free tastings of maple products and hot pancake and sausage breakfast in the barn with pure New York State maple syrup.
Schoff's Sugar Shack – Victor
Maple camp for kids, at 11 a.m. each day families can go into the woods and tap their own tree and demonstration on how to make maple syrup.
Stoney Ridge Farms - Palmyra
Open Saturday & Sunday from 9 a.m. to 4 p.m. for sap shed tours and other events. All-you-can-eat buckwheat or buttermilk pancakes each day from 9 a.m. to 2 p.m., adults $8, kids under 12 $5. Demo area where kids have a chance to drill and hammer a tap into a tree with assistance. Petting zoo (pony, calf, pig, and goats), Barnyard Boggers Monster truck, and 4WD tractor on display. Visitors may purchase from retail store as well.
Syrup A' LaRue – Clifton Springs
Open Saturday & Sunday from 10 a.m. to 2 p.m. Includes tastings of 7 varieties of Hickory Syrup, tours of the sugarbush, demonstrations, displays on New York State maple industry, samples of maple treats and goat petting.
To see all the New York State Maple Weekend events, sponsored by the New York State Maple Association, visit their official website.