Maple Weekend 2020 is March 21-22 & 28-29!
March means maple, especially for Ontario County in the Finger Lakes! During Maple Weekend maple farms across New York State invite visitors to their "sugar houses" to experience firsthand how pure, mouth-watering maple syrup and other related products are made. Visitors also have the opportunity to enjoy fun, family-friendly activities, taste New York's freshest syrup and purchase maple products. 
Ontario County Sugarmakers
Wohlschlegel's Naples Maple Farm – Naples
See you in 2021!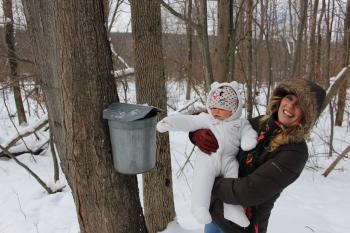 Kettle Ridge Farm – Victor
This year, Kettle Ridge Farm is offering a driving tour of the farm and drive-thru pancake breakfast. You and your family will never leave your car, yet you will have a fun, educational, and delicious experience drenched in maple syrup!
Schoff's Sugar Shack – Victor
See you in 2021!
Syrup A'LaRue - Clifton Springs
Syrup A'LaRue has decided to move forward with a totally unique idea, a Drive-thru Maple Weekend! Saturday March 28 & Sunday March 29 they will be open for pre-order pickups out at the farm! They will be re-posting product lists on Facebook and email. Call ahead to pre-order some goodies and they'll have them bagged up and ready for you to pick up! They'll walk the items right out to your car to you!
Cumming Nature Center - Naples
See you in 2021!
To see all the New York State Maple Weekend events, sponsored by the New York State Maple Association, visit their official website.