Finger Lakes Ring of Fire
It's a "ring of fire!" - Finger Lakes style. Creating a ring of fire around the lakes is not a new tradition, but the focus varies from town to town.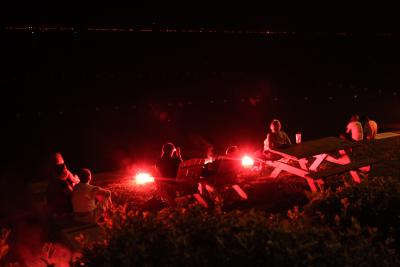 The Labor Day Weekend Ring of Fire has a historical context. The people of the Seneca celebrated Genundowa (Festival of Lights) where lake fires of tobacco were lit to express gratitude for being saved from the Great Snake and for a bountiful harvest, good hunting, and fishing.
Regardless of the reason for the celebration, a Ring of Fire around the lakes is a stunning celebratory display that will be emblazoned in your memory.
Canandaigua Lake: Saturday of Labor Day Weekend
Every Saturday of Labor Day weekend, Canandaigua Lake's perimeter glows at dark. The first fire is lit at the top of Bare Hill overlooking the lake followed by residents around the shoreline who then light a fire or flare that creates a ring around the entire lake, marking the unofficial end of summer.
Honeoye Lake: July 3
To go alongside Fourth of July fireworks, residents on Honeoye Lake also have a Ring of Fire on July 3 to celebrate.