Student Crafted - Castles, Lakes & Grapes Premier
Itinerary for 4 nights, 5 days
Day 1:
Begin your visit at the Corning Museum of Glass, the world's largest glass museum that recently opened a Contemporary Art + Design wing, live glass blowing demonstrations, and much more to see and do such as a-hands on glass making experience. Corning, 2 hours     
Take a scenic drive along Seneca Lake where you will stop at Red Jacket Orchards for a tour of the juice processing plant and have some time for some tasty shopping. Geneva, 1  1/2 hour  
Savor a dinner served in a one hundred year old castle at Belhurst overlooking Seneca Lake. Stroll the grounds and be sure to take many photos of this historic site. Geneva, 1 1/2 hours
Day 2:
A perfect way to start your day is at Ganondagan State Historic Site.  Imagine yourself in the 17th century. It's easy to do when you're in a replica Native American bark longhouse that stands at the location of what was one of the largest, most vital 17th-century Seneca towns until its destruction in 1687. The Seneca Art & Culture Center tells the story of the Seneca and Haudenosaunee (Iroquois) contributions to art, culture and society for more than 2,000 years to the present day.  Victor, 2 1/2 hours combined
One of the most photographed spots in Ontario County is your next stop!  Next take in the view at Carolabarb Park.  "Brew and Brats" will promise a unique luncheon stop. Offering locally made bratwurst along with homemade root beer and grape juice to sample and topping off with a slice of grape pie!  If you like shopping for locally made products then take time to explore the gift shop at Arbor Hill Grapery – where their hand made products have been featured products on the Food Network. 
It's showtime for a matinee at Bristol Valley Theater! You don't have to go to New York City to get quality theater. Located in the scenic village of Naples you will find a premier professional theater featuring performers from Broadway and throughout the country. If there is not a performance scheduled depending on the timing of your visit then the staff will customize and experience perfectly fitting the group!
Are you good with a paint brush? We have an instructor that will guide you the way on canvas. It's time to create a masterpieces and try your hand at Plein Air painting. Call it landscape art and have a memory to take home with you from  the Finger Lakes. 
Joseph's Wayside Market - A seasonal, open air market with fresh local goodies such as fruits, handmade products and wines!
Stop for dinner at Roots Cafe for a taste of the local cuisine overlooking the vineyards from Inspire Moore Winery. They're known for their Roots burger, but they have full, fresh menu options available.                    
Day 3:
Rise and shine and then off to explore Granger Homestead and Carriage Museum. This 1816 Federal Mansion is the home of Gideon Granger, our nation's longest serving Postmaster. The Carriage Museum boasts over 100 horse drawn carriages and farm implements. Step back to the Victorian era and enjoy a tour at the Sonnenberg Gardens and Mansion State Historic Park. This Victorian mansion will take your breath away with its beautifully manicured gardens.
Wegmans Market Café, a perfect spot for lunch because there's something to satisfy everyone's palate at this experiential food market and café. This nationally recognized grocery store and market café develops a year-round appreciation of fresh produce, from the best growers in the region.
An afternoon scenic cruise on the Canandaigua Lady Paddle Boat gives you time to sit back and unwind on a 19th Century replica of a double-decker paddlewheel boat. 
Savor a final dinner - an entertaining and educational dinner experience in the demonstration theater at the New York Kitchen.  Sample New York all in one place!
Day 4:
Looking for a one of a kind assortment of radios, televisions and phonographs and more can be found at the Antique Wireless Museum. Old meets new with this collection of historic devices.  
Have you ever kissed an alpaca? Well here's your chance with a visit to Lazy Acres Alpaca Farm. After touring the farm and feeding the alpacas you will have a chance to visit their gift shop in an 1879 year old barn.
Hope you are in the mood for some authentic smokin' good barbecue because Sticky Lips is the place for lunch. Sticky Lips slow smokes the best grilled and pit styles from the legendary barbecue regions across America.
Now you will find an afternoon filled with amazement beginning at the Strong Museum of Play. Here you will see world's largest and most comprehensive collection of historical materials related to play. These highly interactive collections enable a multifaceted array of research, exhibition, and other interpretive and educational activities.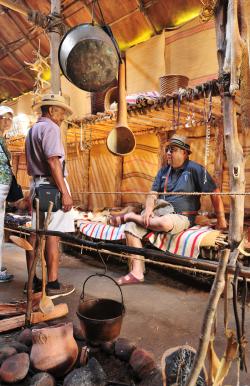 The George Eastman Museum is an international treasure, with the world's foremost collection of photography and cinema, including the preeminent collection of photographic and cinematographic technology. The museum is located on the National Historic Landmark estate of entrepreneur and philanthropist George Eastman, the pioneer of popular photography and a leader in the development of motion picture film.
Eastview Mall will offer a combined upscale shopping experience with over 180 stores. It will also be your dinner stop for the evening offering numerous options to pick from.
Day 5
Off to see the Grand Canyon of the East. Letchworth State Park is one of the most scenically magnificent areas in the eastern U.S.  The Genesee River roars through the gorge over there major waterfalls between the cliffs surrounded by lush forests. Enjoy a guided walk and be ready to taking some amazing photos.