What Reopening Means for You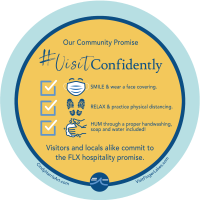 As we prepare to welcome you back to Ontario County and the Finger Lakes region, we are committed to providing the authentically friendly #FLXperience you've come to expect and love, as well as a safe environment that aligns with state protocols to prevent the spread of COVID-19. Our business community is working closely with local government to redefine cleaning and safety standards throughout the county, while still providing a rejuvenating oasis for our visitors.
The businesses of Ontario County are setting the standard for cleanliness, from restaurants and retail shops to wineries, hotels, and more.
Operating at 50% capacity indoors, and outdoor space at least 6 feet apart
Masks are required unless you are seated
Many spots are requiring reservations, particularly for tastings. Refer to your specific winery or brewery for its exact specifications
A food purchase is required with each alcoholic beverage purchased – this is a New York State requirement, not the establishment
Safety plans are available online or by request in person
Continuous sanitization will be taking place
All employees will be wearing face masks and other PPE during your entire stay
Review all specific protocols in your confirmation email
Refer to on-premise signage for additional safety precautions
All employees will be wearing PPE during the entirety of your stay
Increased sanitization will be occurring throughout the property
Safety plans will be available online or by request in-person
Layout of the property may be different than a previous experience to ensure the 6 feet of distance between parties
Masks are required when out of your personal room
Some amenities, including the fitness center and pool, may be closed to ensure maximum safety
Restaurants are operating at 75% capacity indoors, and outdoor dining with tables at least 6 feet apart

Masks are required unless you are seated at your table
Most restaurants are requiring reservations in advance to properly serve your party. In your confirmation email or phone call, take note of any policies
Refer to posted signage at the restaurant for any of its specific policies and procedures
Employees will be wearing face masks during the entirety of your meal
Continuous sanitization will be happening on all dining surfaces between parties
Safety plans are available online or by request in person
Shops are offering in-person, in-person by appointment and curbside pickup-only experiences. Refer to the specific store's plan for more information.

Signage will be posted at the entrance with all relevant procedures and protocols
Hand sanitizer will be available throughout the store
Masks are available at the front door for any patrons who forgot theirs
Stores are required to limit the amount of patrons' dependent on square footage
Customer and employee touchpoints will be regularly sanitized
Safety plans are available online or in-person upon request
No group larger than 50 may gather
When within 6 feet of someone other than in your party, masks are required
Stay further than 6 feet away from others
Playgrounds and other visitor outdoor touchpoints will be regularly sanitized, if open. Refer to safety plan online for more information
Open swimming areas will be operating at a reduced capacity