Top 10 Fun Winter Things to Do in the Finger Lakes
If you're looking for some of the many ways to have fun in the Finger Lakes this winter, we have a list of the top 10 best activities to make sure you enjoy the weather. Whether you're outside, or in!

The thrill of downhill awaits you at Bristol Mountain, the only ski and snowboarding resort in the Finger Lakes with a 1,200-foot vertical rise. Bristol welcomes all enthusiasts, from beginners to veteran rippers and shredders, with nearly three dozen trails (many of them illuminated at night), state-of-the-art snowmaking and a mid-slope cafe for waffles. Looking for something new and different, check out the Bristol Mountain Zipline Canopy Tour. Yep, it's even open in the winter.


It could be opera, but it sure doesn't have to be. At the end of a winter-wonderful day, catch an art house movie, a nationally renowned rock band, a dance performance or a symphony orchestra at The Smith, as it's known by the locals. This 1,400-seat Romanesque theater has been entertaining Finger Lakes performing arts lovers for more than 120 years.
#3. Take a leisurely approach to wine (and beer, and cider)


Winter brings on a slower, more relaxed pace at area wineries, distilleries, cideries and craft breweries which can often lead to a more intimate tasting experience. Devote a day or weekend to exploring the Finger Lakes in all liquid forms: wine, beer, hard cider and distilled spirits. Some brave, open-minded souls venture to try a little of each in a single outing. Cheers.
#4. Appreciate art and culture
Seneca Art & Culture Center at Ganondagan, Victor

We admit, there are days when even the heartiest of Finger Lakes winter lovers would prefer to be inside. Located on the land where a Seneca village once thrived, the Seneca Art & Culture Center at Ganondagan State Historic Site immerses you into the world of Native American art and culture, old and new. The story of the Seneca and Haudenosaunee (Iroquois) people are shared through animated film, an exhibit gallery and special events, performances and classes. 
#5. Warm up to the fire

A cold night plus warm fire could be the perfect Belhurst Castle pairing, even more magical with a glass of Finger Lakes wine or beer. The outdoor fire pit at this historic castle overlooks frosty Seneca Lake, and is a romantic spot to "chill" before dinner. When the outside air grows too nippy, you can warm up by the fireplace inside Stonecutter's Restaurant, Belhurst's casual yet elegant lounge and restaurant, where the lake view is still stunning.
#6. Crack an egg

Winter is just as fun inside the kitchen as it is outside on the snow and ice. Take a hands-on cooking or baking class on winter comfort foods and treats at the New York Kitchen. Many classes include a full meal and wine to make the experience even more memorable. This is a great way to meet new people or spend time with those you already know and love.
#7. Ski Nordic.

Nestled high up in the Bristol hills north of Naples where the snow is plentiful and where civilization feels very remote, the Cumming Nature Center near Naples boasts 15 miles of gorgeous forested trails just for cross-country skiers. (Snowshoers have their own 3 miles of trails.) Pack a thermos of hot cocoa and a hearty lunch for a cozy picnic inside the Center's lodge. Equipment rentals are available.
#8. Walk on snow

There are 500 acres of Seneca and Haudenosaunee (Iroquois) reverence for nature at Ganondagan. Strap on the  ga-weh-ga-a, or snowshoes, and hike its trails. Look for animal tracks that may tell if you fox, deer or birds are nearby. If your timing is right, take part in the Native American Winter Games & Sports, an annual February even featuring dog sledding, storytelling, and winter craft demonstrations.
#9. Ice skating

Indoor skating lets you cop that winter feel without having to brave the elements. Plus, the ice is always smooth. Ontario County boasts two fine rinks: the Geneva Recreation Complex (where you can also catch Hobart and William Smith Colleges' home hockey games) and the Greater Canandaigua Civic Center. Skate rentals are available at both places.
#10. Drop a line!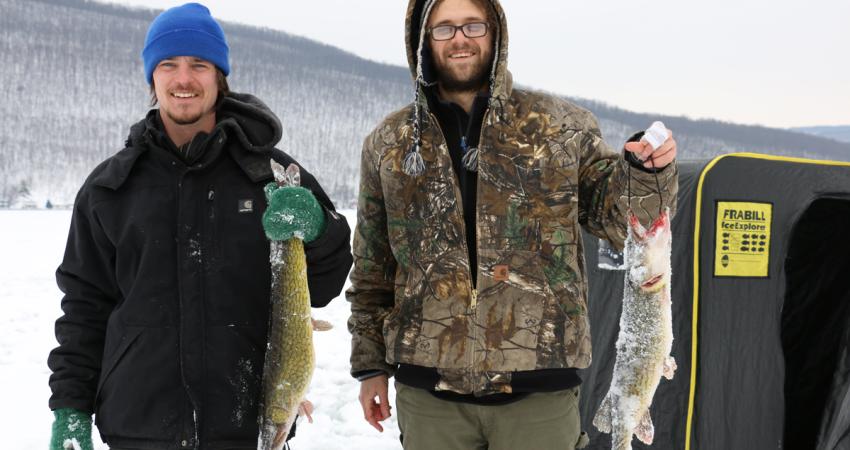 Ice fishing is big in the Finger Lakes, especially on Canandaigua, Canadice and Honeoye lakes. Bring your shanty and your gear and try your luck at catching lake, brown or rainbow trout, largemouth and smallmouth bass, crappie and perch.