Farm Adventure Trail
Ontario County has some of the best farmland in the state, and our economy has a big stake in agriculture. If you want to experience the bounty and diversity of Finger Lakes farming, here's a great "trail" to get you started.

Red Jacket Orchards  in Geneva is a third-generation farming operation that grows a variety of stonefruit, from apricots, plums and peaches to apples, pears. Geneva. The farm store is a great place to buy fruit and other local produce, as well as Red Jacket's best-selling fresh-pressed fruit juices. Ask about tours of the juice facility.
What happens underground is just as important to farming as what grows above. The Mike Weaver Drain Tile Museum near Geneva is a fascinating journey through the history of underground farming techniques, with drainage tiles dating back to Roman times. The museum is part of the Geneva Historical Society's Rose Hill Mansion.
 
Borglum's Iris Gardens in Geneva has four acres of irises, peonies, hostas, and daylilies. Experience the power of flowers at this family-owned farm.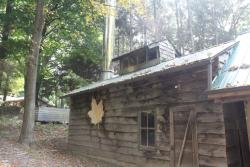 Everson's Pure Maple Products in Clifton Springs produces maple syrup in a lovely wooded setting. Farm animals on are site, and tours are available. The farm is open for syrup sales year-round.
 
Liberty Stables in Bloomfield offers guided horseback trail rides through the lovely Bristol Hills. It's a great way to horse around in the Finger Lakes.
 
If you have never smelled a vineyard during harvest season or tasted fresh wine grape juice, Randall-Standish Vineyards in Canandaigua/South Bristol is the place to do so.
 
If vintage crawler tractors and other farm paraphernalia from the early 1900s are in the spotlight at the Vintage Tracks Museum in Bloomfield.
 
Have you ever gotten up close and personal with an alpaca? Golden Oak Alpaca Farm in Honeoye raises these animals for their fiber and sells alpaca clothing at its farm store, along with grass-fed beef.


Jerome's U-Pick in Naples is the place to pick your own table grapes. The vineyards smell great at harvest time.
 
Wohlschlegel's Naples Maple Farm in Naples is open to the public during Maple Weekends in March. Learn how maple trees are tapped and sap is turned into syrup.