A foodie's heaven in the Finger Lakes
Finger Lakes has a culinary bounty that tastes better and better every season. Here are some of our favorite culinary experiences. We think of them as 9 Steps to Foodie Heaven in the Finger Lakes. Try them and they will probably become your favorites as well.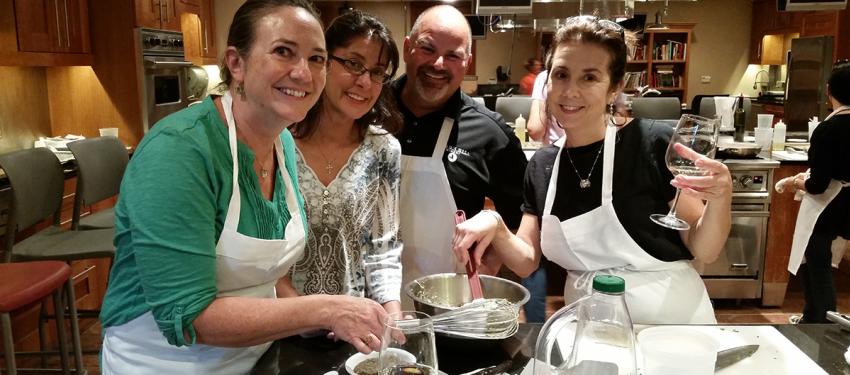 1. Take a cooking class at the New York Kitchen
Spend the day feeling like you are a chef in the making at the New York Kitchen in Canandaigua. Professional chefs lead these hands-on classes in state-of-the-art kitchens. You go home with new knowledge, great recipes and a happy stomach. If you love fine wines and food that someone else makes, then consider attending one of the Kitchen's wine pairing dinners.

2. Discover Iroquois White Corn Project
The Friends of Ganondagan, which supports the Ganondagan State Historic Site in Victor, launched the Iroquois White Corn Project as a way to revive an heirloom variety of Native American corn grown by the Seneca and Haudenosaunee for centuries. Available in whole kernels for soups and stews or as cornmeal for bread and polenta, Iroquois White Corn is the taste of living history you'll never forget. Visit Ganondagan to purchase and learn more about the corn, and check the website for corn-related events such as workshops and husking bees.



3. Indulge in chocolate at Sweet Expressions
Need a truffle, or chocolate bar, or chocolate-dipped nuts to remind you how sweet life is? We can think of no better source than Sweet Expressions in downtown Canandaigua. From homemade fudge to nostalgic confections, Sweet Expressions can answer all your chocolate needs.

4. Indulge in Maple Madness at Cumming Nature Center
Every March, the Cumming Nature Center near Naples plays host to all things Maple. Learn how a tree makes sap and discover the different processing techniques of Native Americans, early pioneers, and today's modern sugar bush managers. Highlights include a 100 percent pure maple syrup tasting in the sugarhouse and a pancake meal in the visitors center.



5. Pick some apples (and eat some donuts and take a hike) at The Apple Farm
The Apple Farm in Victor is more than just a place to buy or pick your own fresh, wholesome apples. It also presses apples into delicious cider, bakes amazing donuts, has its own source of renewable energy (a wind turbine), and offers disc golf right on site.

6. Spend a Saturday morning at the Canandaigua Farmers Market
The year-round Canandaigua Farmers Market is a joy to experience, with fresh fruits and vegetables, eggs, cut flowers, baked goods, pickles, jams and great people-watching. Is it local? Do you even need to ask?



7. Appreciate an old-fashioned butcher shop at Bostrom Farms
If you are headed to a local park for a barbecue picnic or plan to have a cookout at your campsite, stop by Bostrom Farms in Stanley for freshly cut pork, beef and chicken from local and regional farms.

8. Sip and dip with F. Oliver's in Canandaigua
Nothing goes better with artisan breads than fresh, olive oils and infused vinegars made in small batches from F. Oliver's in Canandaigua. These products also boost picnic salads and make fantastic gifts. Be sure to try F. Oliver's butternut squash seed oil as well, made from local squashes.

9. Shop at Wegmans in Canandaigua
People think we're crazy when we suggest they visit Wegmans, the award-winning supermarket chain that was founded in Rochester in 1916. But locals have a tradition of taking their out-of-town guests to this flagship store for lunch or dinner and yes, for groceries. Shopping is believing.
Of course, any foodie's tour of the Finger Lakes has to include a stop at our wineries, breweries, or cideries. It's easy to weave these experiences in to your visit, or hop on a wine or brew trail like the new ROC/FLX Craft Beverage Trail to sample your way through the FLX.