Farmers markets in Ontario County and the Finger Lakes
In Ontario County, we are lucky to have amazingly fertile soils and incredibly talented farmers, as well as seven farmers markets that take place on five different days of the week.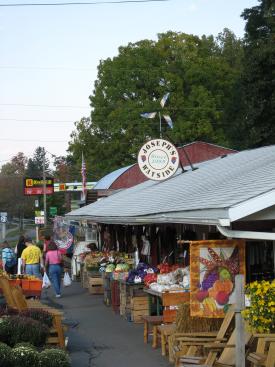 Many farmers markets have prepared food vendors on site that will make breakfast, lunch or dinner for you, as well as live entertainment that makes it doubly worth the trouble to seek them out. Plus, they are typically located in the heart of the village or town, with other worthwhile destinations or activities nearby.  
Check out our listings for the updated list of farmer's markets.
Want to make a trail out of the markets? Well, the good news is that you can go almost every day of the week, so you can make your extra stops even more distinctive. The farmer's markets are great pairings for visiting some attractions and retail stores of our main streets. For this trail, we're giving you are "best bets" while in the area.
Canandaigua Farmers Market
Your Farmers Market add-on: After shopping at the market, explore the shops, galleries and restaurants along Canandaigua's quaint Main Street.
Canandaigua VA Farmers Market
What else to do: The VA Farmers Market is located on the VA campus, which is surrounded by charming, historic neighborhood. Stroll the nearby residential streets and admire Canandaigua's homes and gardens. I especially love to ogle at the homes on Gorham, Charlotte and Gibson streets. This farmers market is adjacent to Sonnenberg Gardens & Mansion.
Cheshire Union Farmers Market
You're already here: This market is at the Cheshire Union Gifts and Antique Center, an old school house that has new life with its rooms filled with crafts, antiques, specialty Finger Lakes art. It's a treasure trove. Need I say more?
Clifton Springs Farmers Market
Choices include relaxation, shopping, history: Before shopping on the good old fashioned boarded sidewalk, explore the Foster Cottage Museum, home of Dr. Henry Foster, who was all about spreading the gospel of the Clifton Springs Water Cure.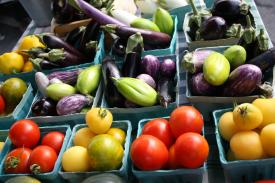 City of Geneva Farmers Market
What else to do: Take a walk and a picnic along the Seneca Lake lakefront path.  Stop by the Visitors Center and get the tips on what special events are happening while you're in town.
Honeoye Old Village Market
What else to do: Pack a picnic and eat it at Sandy Bottom Beach Park along the shores of Honeoye Lake.
Victor Farmers Market
It's wine or beer time: Get your shopping done early and head to Cork49 Wine Bar, Song Hill Winery or NYBP Victor Beer Hall for a tasting.