Family Fun Trail
Use Canandaigua as your hub or home base for this three-day/two-night family vacation and you'll never have to stray far from base on any day. Stay at Holiday Inn Express in Canandaigua. The bonus of this itinerary is that most of it is good year round.
DAY 1: Victor
Your first day's adventures will take you to Eastview Mall  in Victor where the kids can let their imaginations run wild at the Lego Store. Stations are set up throughout the store to let you test your creativity or create your own design.
You don't have to go far when you're ready to move on to your next activity. Sure you've played mini golf before, but Glowgolf Mini Golf will take the fun to new level.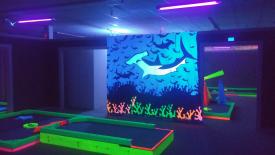 It's all about being stealthy when you move onto the Laser Maze Challenge course. This isn't laser tag, this is you against the laser beams. Crawl, jump, stretch, hop – do whatever it takes to make your way over, under and around these laser beams.
Hungry? Your family can't go wrong with Champs sports bar. The sporty traditional American fare will fuel you up for the next part of your busy day.
Now that you've spent so much time inside, this is a good point to trek to Ganondagan State Historic Site in Victor, one of the most authentic ways to learn about Native American life in this region. Stroll along several self-guided nature trails and step inside a replica Bark Longhouse to see how the Seneca people lived centuries ago. Inside the Seneca Art & Culture Center, you can watch a film about the Iroquois creation story and explore the interactive gallery that is full of modern and ancient artifacts of Seneca and Haudenosaunee art, culture and life.
Looking for a tasty way to end your day before you head back to your hotel? Bistro 11 on Main Street Victor will fit the bill. Bon appetit!  
DAY 2: Canandaigua
Rise and shine and get ready for your second day of family fun in the Finger Lakes.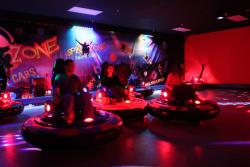 It's never too early to play laser tag, drive bumper cars or go bowling at Roseland Bowl Family Fun Center. By the time you're ready to have your next adventure, the sun will have warmed everything up.              
Next stop, Canandaigua Lake. Rent kayaks, paddleboards or other watercraft at Canandaigua Sailboarding. Or take a swim in the lake at Kershaw Park.
After you've changed back into your street clothes, look for the next great play-thing at Unique Toy Shop on Main Street. This unique store specializes in toys for all ages.
While you're on Main Street, check out the many options for dinner. Your choices include Simply Crepes,  Rheinblick German Restaurant, Eddie O'Brien's Grille and Bar, and more.
DAY 3: Naples, South Bristol and Bloomfield
There's a whole lot of nature involved in this day's plans, starting in Naples at Grimes Glen Park. Lace up your hiking shoes and follow the trail that meanders through the woods and past stunning waterfalls. The "back to nature" simplicity will leave you invigorated and ready for the next leg of today's adventure.
Next up is Bristol Mountain Aerial Adventure Park in South Bristol. These challenge courses within the forest canopy contain more than 125 elements and will bring out the inner daredevil in every member of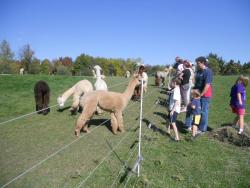 the family. There are multiple levels of difficulty, including children's courses, so there's no excuse for anyone to sit on the sidelines.
Your final destination is a little more relaxing. A visit to Lazy Acre Alpacas in Bloomfield gives you the chance to get close to get up close and personal with an alpaca. Learn about the history of these four-legged creatures from South America and what it's like to run an alpaca farm. After the farm tour, shop for beautiful clothes made with alpaca fiber.
Length of stay:
3 days and 2 nights.
Themes:
Family adventure; back to nature; family fun; challenges