Family Time
Ease into fall and help your kids wipe away the "back-to-school blues" with this end-of-September weekend family getaway that will feel like you got an extension on summer vacation.
Day 1: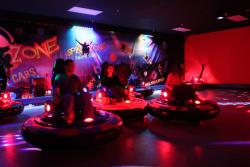 You've arrived! Start your mini-vacation Friday with an early dinner at the Bee Hive Brew Pub where you can find a tasty brew for you and a variety of pub fare foods for anyone to enjoy. If your family is feeling more adventurous, you may want to dine at Rheinblick German Restaurant for an authentic German dining experience!  Now time for a rousing family game of laser tag or bumper cars at Roseland Bowl Family Fun Center. There's nothing quite like a little friendly family competition to get the giggles going. 
Relish the thrill of victory and soothe the agony of defeat with artisan ice cream at Cheshire Farms Creamery in Canandaigua. 
Stay at the Holiday Inn Express in Canandaigua for an affordable and comfortable night of sleep and relaxation.
Day 2: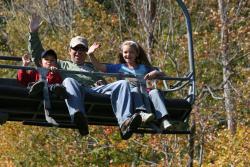 Saturday morning, zip down to the Naples Grape Festival, where it's all about the grape. Planned for late September each fall, there's plenty of food (including the famous grape pie) as well as arts, crafts and live local music and wine (for Mom and Dad) to keep you entertained for hours.
Save time to swing by Bristol Mountain for a Fall Sky Rides. Enjoy the view of the changing leaves from The Comet Express as it takes you to the summit of the mountain. You can ride the chairlift back down or go by foot. Hey! It's all downhill from there!
Close out the day with a nice dinner at Roots Cafe in Naples before you head back to the Holiday Inn Express to tuck the kids in for the night.
Day 3:
Up and at 'em! We know today is a day to head back home, but you might as well squeeze in a little more fun before you have to hit the road.
First, head across the street to Wegmans to pick up the supplies you need for a family picnic. If you've never been in a Wegmans store, you're in for a treat. It won't be an issue of "if" you find what you want for your picnic but rather there are so many options, you may have trouble limiting yourself.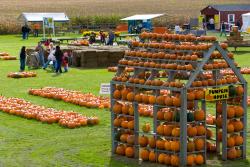 Since it is fall and prime pumpkin season, an alternative activity for the day is to drive east on Routes 5 and 20 to the Pick'N Patch in Stanley. Your family can take on the challenge of the corn maze, pet some of the farm animals, take a mini train ride or go in the funhouse. Each year the Wickham family expands the offerings. It's a great way to experience the fall harvest.
You know that picnic you picked up at Wegmans? Take it to a picnic table on Canandaigua's City Pier and enjoy the view of Canandaigua Lake and the surrounding hills, which should have a blush of fall colors. Before you pile back into the car, meander among the historic, quaint boathouses and get some family pictures.
Tomorrow's back to school for the kiddos, but they'll feel rejuvenated after this fun weekend. So will you.