It's a Man's World
Day I
Your first stop is your first hole! Ravenwood Golf Club in Victor offers GPS on all carts for easy navigation around all 18 holes. Make sure to pick up the essentials at the pro shop and check out the bar!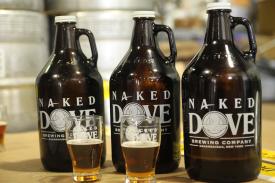 At the nearby Eastview Mall, L.L. Bean offers all you could ask for in outdoor clothing and recreational equipment. Perhaps you need an all-weather jacket or maybe some new hiking boots. Speaking of boots, don't forget to take a selfie by the giant L.L. Bean boot before you leave. Another favorite store for outdoor gear is The North Face, just across the street.
By now it should be about beer o'clock. Make a stop at Naked Dove Brewing Company in Canandaigua and do a tasting, then grab a couple of growlers for the trip – Naked Dove Porter is out of this world and will be perfect for that late-night card game at the Ramada Geneva Lakefront on Seneca Lake in Geneva.
Dinner tonight is at the Red Dove Tavern in Geneva, where the kitchen is always coming up with creative takes on local ingredients. Here you will also find many beers on tap, a local and international wine list and artisan cocktails.
Day 2
Start your day of fun by indulging your "Easy Rider" fantasy at Geneva Harley-Davidson. You'll have as much fun looking at the latest models as you will shopping through the huge selection of clothes and accessories.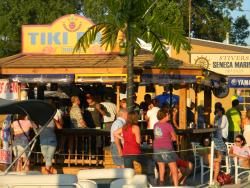 Now let's take this mancation off the road and on the water! Head over to Stivers Seneca Marine  just outside of Geneva where you can rent a pontoon and cruise the waters of Seneca Lake. Before you leave make sure you grab a bite to eat at the Tiki Bar North!
As the day draws to a close, for a change of pace – let's get competitive on  your mancation at Finger Lakes Gaming & Racetrack in Farmington.  Jump on a slot machine, play some video poker or take a chance and bet on a thoroughbred horse race. There are plenty of great food and drink options here as well.