Outdoor Winter Fun in the Snow
Those of us who lovingly call the Finger Lakes home do so with a four-season state of mind. In other words, when winter comes, we say bring it on!
Can't decide what kind of snow day to spend here? We have a few ideas.
Beginner's Luck at Bristol Mountain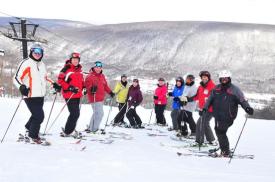 Never been on skis or snowboards before? Take a day to introduce yourself to the wonders of alpine adventure at Bristol Mountain Winter Resort. Sign up for a VIP Learn to Ski or Snowboard Package that includes ski or snowboard rentals, a five-hour beginner's class with an expert instructor, lunch and an all-day pass that gives you time after your lesson to practice. The beauty of Bristol is that it's kind to beginners.  Afterwards, celebrate your accomplishments with dinner at Café Sol, a few miles north of Bristol Mountain.
Downhill After Dark.
Skiers and snowboarders, let yourself sleep late, then have a hearty brunch at Simply Crepes  in Canandaigua. Shop for some great winter fashions in Canandaigua's downtown district, and spoil yourself with a massage or manicure at Park West Hair Design and Spa. Then before twilight, head to Bristol Mountain for some exciting night skiing and snowboarding. Though the sky may be black, most of Bristol's trails here are illuminated, making for a magical, if not romantic evening.
As your apres-ski warm-down, enjoy a nightcap at the Green Front Restaurant in Canandaigua, a one-time speak-easy that is now an inviting place to have a locally brewed beer or cocktail and a well-deserved late-night burger.
Float and gloat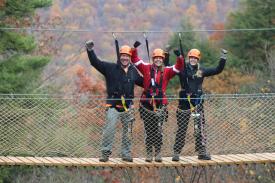 Want to experience the exhilaration of the mountain without having to maneuver the moguls and turns? Sign up for a three-hour Zipline Canopy Tour at Bristol Mountain Aerial Adventures, where you'll "fly" 5,000 feet through the forest and take in some spectacular views of the Bristol Valley.
Winter ziplining earns you double bragging rights, and there is no better place to revel in your bravery than over a flight of beers at Bloomfield's Nedloh Brewing Co. After your celebratory happy hour, head to Big Bass Brasserie  for a dinner that could include egg rolls, corned beef and sauerkraut or a creative take on fish fry.
For Nordic nature Lovers
Perhaps your idea of "snow much fun" means gliding through the snow on cross-country skis. Enjoy the morning sunshine on the 15 miles of groomed ski trails at Cumming Nature Center near Naples, where you may come upon a cardinal, animal tracks and other signs of winter wildlife. Even if there is no snow, you can hike this beautiful 900-acre nature preserve, a wonderful way to make friends with winter. Either way, bring a picnic lunch to enjoy in the lodge, and warm up with a cup of hot cocoa.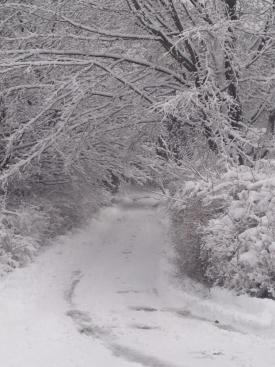 Later in the afternoon, take a scenic drive to Clifton Springs and browse the Main Street Arts, a gallery featuring work by Finger Lakes artists. Then indulge in a dinner that is just as artistic at Warfield's Restaurant. 
Learn about Native American culture by day and snowshoe through nature at night
You need not go any further than Victor for a full day of learning and adventure. Have a home-cooked breakfast at the Chit Chat Café or Food at Fishers Station, then learn about the history and cultural legacy of the Haudenosaunee (Iroquois) at the Seneca Art & Culture Center at Ganondagan State Historic Site (Note: SACC is closed from mid-January to mid-February).
Grab a distinctive pizza dinner at Lucca Wood Fire Bistro before taking a starlight snowshoe tour through the L.L. Bean Outdoor Discovery School, where your guide will share their knowledge of the local plants and wildlife.