Therapy Trail for Wellness Seekers in the Finger Lakes
Nature plus nurture equals some rejuvenating therapy while you are in the Finger Lakes. Here is one day's worth of rejuvenation, relaxation and reflection.
Finger Lakes Yogascapes offers plein air yoga retreats, from winter snowga weekends and stand up paddleboard yoga to aerial adventures combined with yoga for mothers and daughters. Check the schedule for events and Finger Lakes getaways.
Good Life Tea in Canandaigua serves and sells soothing loose-leaf teas in all varieties: green, matcha, herbal, black and white teas. Nothing clears the mind and settles the soul like a good cup of tea.
The Springs Integrative Medicine Center & Spa in Clifton Springs is the only mineral springs spa in Western New York. Its services also include massage (from hot stone to shiatsu), hypnotherapy, facials, aromatherapy and acupuncture.
Clifton Springs Labyrinth, right in the middle of Clifton Springs, is a fine place to spend a few meditative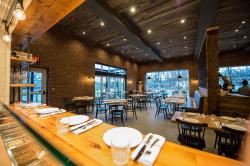 moments of walking before or after your spa treatment.
Kindred Fare in Geneva is a farm-to-table restaurant with therapeutic cocktails made with local spirits and other locally sourced ingredients. The reigning philosophy is shared plates, so bring along friends and family.