Roadside Attractions Not to Miss in the Finger Lakes
There are many fun roadside attractions to be found throughout your road trip in Ontario County. You'll want to schedule a stop at these unconventional sites!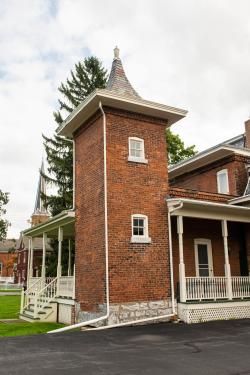 The Two-Story Outhouse in Phelps (yes, you read that right!), has 6 seats and was made of solid brick back in 1869. It is next to the Howe House Museum, so brush   up on your history when you stop to snap a pic.
Resembling buildings you would find in Boston or Georgetown, the elegant Row Houses in Geneva have simple, harmonious lines. While they are private homes now, they used to operate as waterfront businesses in the 19th and 20th centuries.
A drive along Routes 5&20 usually includes a drive by of the Carhartt car outside The Outdoor Store in Bloomfield. After your photo op with the car, stop into the store - a mom and pop store that has been in business for over 20 years!
The Ontario County Courthouse is rich in local history. The building is the site of Susan B. Anthony's trial in 1873 for voting in the 1872 presidential election. High above the building stands Lady Justice on the gold-painted cupola.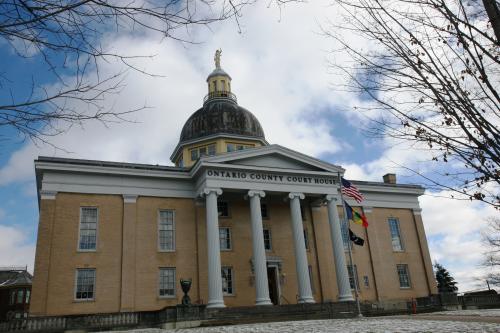 The Finger Lakes are also known for Routes 5 & 20, a 135-mile corridor that traverses New York State from east to west. It's a visitor's dream come true: wine tasting, antique shops, historic sites, theme parks, fine dining and lodging, scenic rural landscapes and quaint villages. Best of all, you've left the expressways to slow down and take a relaxing and scenic drive along an Authentic American Road.
Enjoy these Ontario County stops along the Routes 5 & 20 Trail:
Lazy Acre Alpacas in West Bloomfield lets you pet a cute alpaca and then buy a sweater made with alpaca fiber.

The Antique Wireless Museum in Bloomfield, run by the Antique Wireless Association, or AWA, will make you appreciate what constituted high-tech communications from the time of Thomas Edison and the Titanic to the earliest mobile telephone.
The Bloomfield Antique Country Mile is a cluster of antique shops on Routes 5 & 20 that feature artifacts from more than 175 antique dealers.
Stop for an ice cream cone at Shark's in Bloomfield! With a countless number of homemade ice cream flavors made fresh in-house, Shark's is sure to have the sweet treat you need on your drive.
If you and your family need a place to cool off, Roseland Waterpark in Canandaigua has slides, wave pools and other refreshing ways to get wet. In Geneva, check out the Seneca Lake State Park Sprayground.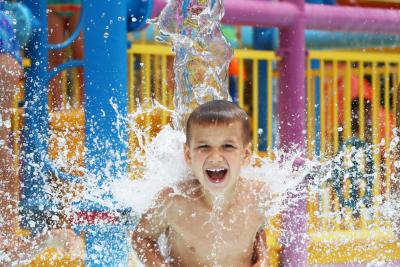 Naked Dove Brewing Company in Canandaigua is the perfect place to enjoy a beer tasting. Naked Dove offers a tour of its microbrewery. You can also shop in the gift shop.
Red Jacket Orchards in Geneva sells the freshest peaches, plums, nectarines, apples and pears and cold-pressed juices made on the premises, plus lots of locally made cheeses, jams and jellies and more.