Economic Impact of Tourism
"National Travel and Tourism Week is an annual tradition for the U.S. travel community. It's a time when travel and tourism professionals across the country unite to celebrate the value travel holds for our economy, businesses and personal well-being." – U.S. Travel
Ontario County's Visitors Connection is pleased that our county's elected officials join in this recognition with a resolution lauding the economic benefits of travel and tourism locally. In brief, our industry collectively supports 4,829 (and growing) full-time jobs, and there is over $207 million in traveler spending in our county. And, there's more. Tourism provides many, many part-time jobs and entrepreneurial business opportunities from grape-pie making, to Uber-driving, to tasting guides at wineries and breweries – some of our fastest growing businesses.
Yes, sales tax revenue is important; jobs and wage growth are important and impressive. But perhaps what's most important is that every Ontario County resident's quality of life is elevated by the many fantastic things we have to do, see, taste, play in, listen to, relax alongside, hike in, and ski down, to suggest a few.
Think "then and now" on what our tourism industry has become and consider this the year that you should check out these "tourism/resident" places in our backyard that are recognized as world-class attractions by others! At Finger Lakes Visitors Connection, we are always happy to provide lots of ideas at VisitFingerLakes.com or provide some tourism-based lifestyle coaching for you in person at our office at 19 Susan B. Anthony Lane, Canandaigua.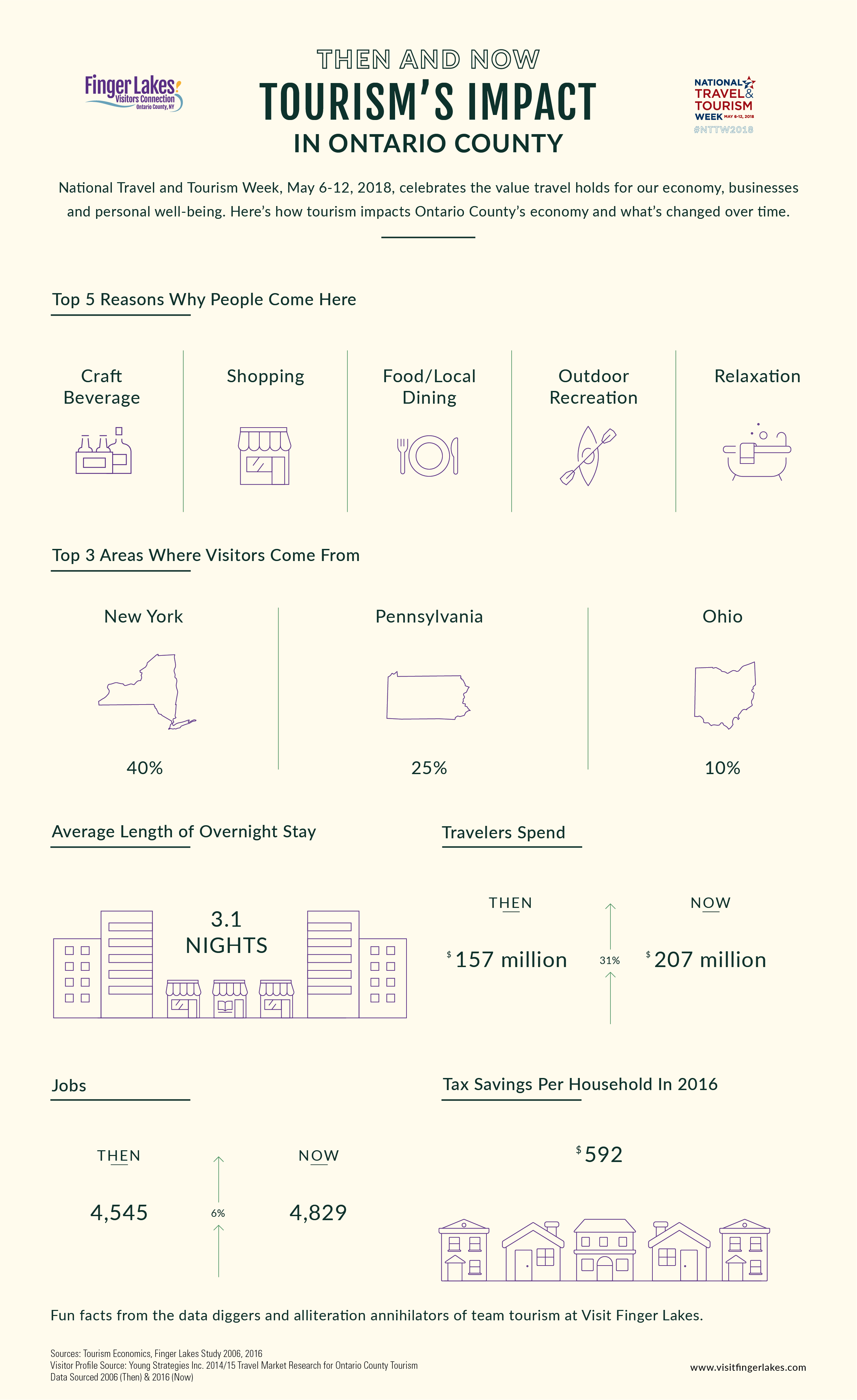 If you don't consider yourself lucky to have all of this available to you, then please look again – and consider the true value that we have in Ontario County and the Finger Lakes when our travel and tourism industry produces all of this and is moving UPWARD.