Finger Lakes Farmers Markets & Farm Tours
Farming is our forte in the Finger Lakes. Fresh tastes, plenty of variety, and a great deal of sharing the farmers' bounty is second nature in Ontario County and the Finger Lakes. Meet the farmers who grow the produce at our farmers markets. Stop at a roadside farm stand for sweet corn or plums. The honor system is alive and well here --- just leave the cash in the coffee can.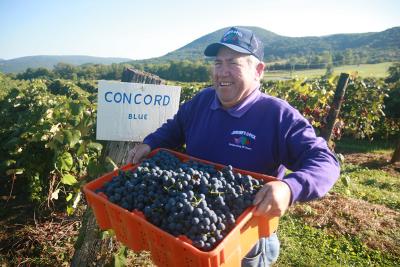 Celebrating at a festival and special event with tastes and fun on the farm. At the top of the list are the Naples Grape Festival, Fun on the Farm and the Pageant of Steam - honoring tractors and equipment's powered with steam. Another can't be missed - the annual Ontario County Fair in late July! We even celebrate Sauerkraut here. Did you know that Phelps is the sauerkraut capital of the world?
U-pick is fun for the whole family. Spend a morning in the season of your choice: strawberries, blueberries, and grapes are top choices. Like the farm animals? Get up close and personal with alpacas, whose soft, protective fibers make wonderful sweaters and capes.
Maple sugaring is not unique to Vermont. In the Finger Lakes you can tour a sugar shack in early spring to see how maple trees are tapped and the sap is cooked down into syrup. Don't miss those pancake breakfasts at places like Cumming Nature Center in Naples.
Farm fresh and local are the flavors of every month in the Finger Lakes. Experience it for yourself.