Farmers Markets and U-Pick Farms
The Finger Lakes is farm country and you don't have to be a farmer to reap the bounty. U-picks are for anyone wishing to grab the freshest fruits or vegetables. Or, if you want your food "ready to go" check out our variety of farmers markets. Early June strawberries and fresh-cut flowers come first in the seasonal selections. Then there is peak-of-summer sweet corn and tomatoes. Our fall tastes range from hearty autumn pumpkins, apples, cabbages to lots of root vegetables and of course, grapes at places like Jeromes. Small family farms are the heart and soul of our farmers markets and farm stands. Here's the place to meet the farmers first-hand.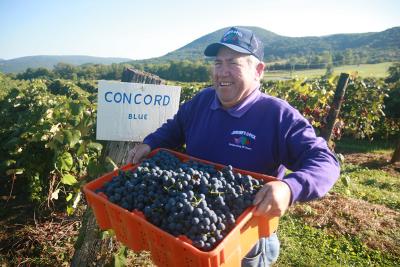 Weekly farmers markets take place in Canandaigua, Geneva, Victor, Clifton Springs and other communities. The Canandaigua Farmers Market even continues through the winter. Vendors are happy to share recipe ideas and answer questions about their sustainable or organic practices. These markets are the place to shop for locally raised meats and eggs, homemade baked goods and hot foods, jams, jellies, ciders, and crafts.
It's always a locavore feast in the Finger Lakes. Dig in.
P.S. Our friend at Cornell Cooperative Extension of Ontario County have put together a local food guide that will help you find farm stands, farmers markets, u-pick farms and other local foods.