Where to see Waterfalls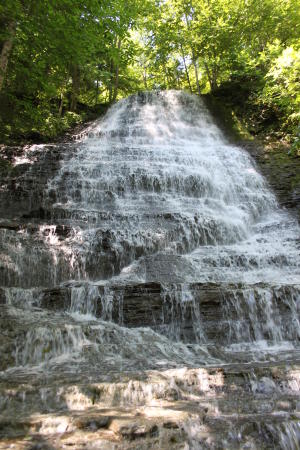 Waterfalls are one of the top surprises for Finger Lakes region tourists. Make sure you get to see some of these flowing treasures of fresh water. Take your picture by any of the Finger Lakes waterfalls and make sure to tag them for our Instagram feed - #FLXperience. See you by the falls!
The Finger Lakes were formed as a result of glacial activity millions of years ago. The lakes were carved by glacial scouring - ice sheets more than two miles thick gouged deep trenches into the river valleys and soil deposits were left along the banks. As water flows through the streams and rivers and eventually to the lakes it pours down the steep slopes and creates some of the most amazing waterfalls to be found outside of Niagara Falls.
The key to finding the waterfalls is generally to go to the south of the Finger Lakes and ride along roads and look up. Shale often lines the banks and the water flows down. Have that camera ready because you'll want to capture the rushing water scenes that change depending on the season.
There are some special waterfalls within Ontario County. Located in Naples, Grimes Glen is the place you want to be. Want to feel like you're right there in the middle of nature? Check out these videos by David O. Brown and you'll be drawn in to go and touch the water and explore.
Not too far from Naples is Letchworth State Park. It's been called the Grand Canyon of the East and certainly its waterfalls helped it receive the best State Park in the United States in 2015.
From High Falls in Rochester to Taughannock Falls near Ithaca and Watkins Glen State Park, the Finger Lakes is certainly water-blessed.