Ganondagan State Historic Site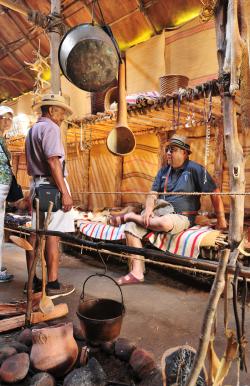 A large part of our Finger Lakes heritage comes from the Native Americans who lived here long before European settlers arrived. Ganondagan State Historic Site pays tribute to that important history on the very grounds where a sizable Seneca community flourished more than 300 years ago.
Today, Ganondagan keeps the customs and beliefs of the Seneca and Haudenosaunee (Iroquois) people alive with events throughout the year that celebrate music, dance, agriculture, crafts, sports, art and language. Its 500-plus acres of rolling hills, fields and forests are threaded with miles of self-guided hiking trails as well as a full-size replica of a 17th century Seneca bark longhouse, furnished with Seneca-crafted household items as well as European and colonial goods acquired by trade.
The Seneca Art & Culture Center, gives visitors insights into the Native American ways of life and rich cultural heritage. Open 11 months of the year, this world-class interpretive center includes an auditorium for live performances and events, an orientation theater and gift shop and an interactive gallery with hundreds of artifacts highlighting Seneca and Haudenosaunee contributions to art, culture and society for the past 2,000 years.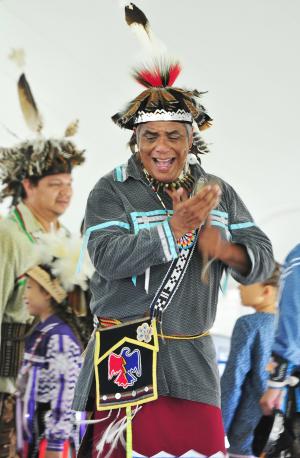 The interactive gallery weaves together ancient artifacts, historic documents and modern art into several themed narratives. An orientation theater lets visitors watch the animated documentary, "The Iroquois Creation Story." An auditorium hosts live music and dance performances and special events throughout the year.
Festivals and special events throughout the year are also part of the Ganondagan experience, from the Native American Dance & Music Festival in July to the Native American Winter Games & Sports in February.
And what would a celebration of culture be without food? The Iroquois White Corn Project at Ganondagan revives an heirloom variety corn that sustained people for centuries. It is now grown by local farmers and hand-processed into a wholesome, nutritious food cherished by home cooks and restaurant chefs alike. Proceeds from Iroquois White Corn, sold at the Seneca Art & Culture Center's gift shop, help support the future of Ganondagan.