Trail Maps
In the Finger Lakes, Mother Nature is always calling. The beauty of our diverse geography takes on deeper meaning when you seize the day in hiking boots, on a bicycle, or by paddling along the shore of one of our lakes or streams. 
Check out these trail cards and make a plan to get out and go!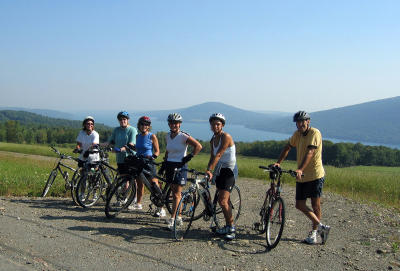 The long, flat rail trail known as Ontario Pathways takes you through some of the region's most bucolic fields and over creeks. Venture forth on foot, snowshoe, or mountain bike. 
From the gently rolling farmscapes of Gorham's country roads to the mountain biker's test of endurance along Stid Hill, the Finger Lakes is cycling Nirvana, studded with bakeries, ice cream shops, and cafes to reward your efforts along the way. 
West River Marsh in the High Tor Wildlife Management Area is a lazy stream brimming with cattails and wildlife for nature-loving kayakers and canoeists.
Pack your binoculars, your sunscreen, and your sense of adventure. Your Finger Lakes adventures await.
Downloads