Locally Made
The Finger Lakes is full of fantastic, tasty products locally made and grown right here in the region. From wine and juices to maple syrup, jams, and breads. You can take home a taste of the Finger Lakes. Where you can get Finger Lakes made is always changing and expanding. Check out our list below and take home those specialties from New York's Finger Lakes.
You won't believe your eyes Wegmans, a nationally recognized grocery store, has the largest selection of produce and products that are homegrown and homemade in the Finger Lakes. It also carries books and other featured items from the area.
Of course we have wine and beer and other craft beverages. That's what the Finger Lakes are known for.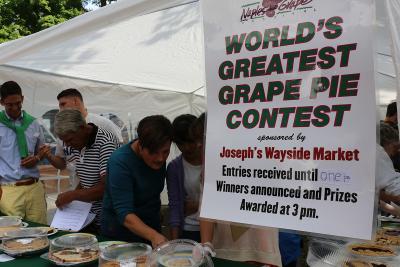 Artists and craftspeople thrive here. Ask our Main Street shopkeepers where the locally made items are in their store. You could take everything home from pottery to pictures to handmade jewelry. You might want to look for a Mennonite or Amish hand-crafted product too.
There is one locally made tasty treat that shouldn't wait until you get home; that's the grape pie. Over 70,000 grape pies are made annually in Naples and there's a pilgrimage from nearby Rochester and Buffalo to get some of the sweet treat.