Finger Lakes Beaches & Where to Swim
The sun is shining high in the sky and the lakes are sparkling and inviting; it's time to get set to get wet! If you need ideas on the best places for swimming and beaches, Ontario County and the Finger Lakes are rich with choices.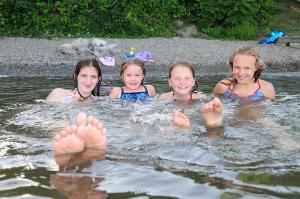 Refresh by jumping into the cool, clear waters of a Finger Lake on a hot day! Whether you're searching for a place to bask in the warm rays, a family-friendly spot to bring the kids, or somewhere you can get your laps in to perfect the butterfly stroke, we have what you're looking for.
For an action-packed sandy beachfront hit up Kershaw Park on the north shore of Canandaigua Lake. Find a quieter scene at Sandy Bottom Beach on Honeoye Lake, where boat size is restricted, meaning a recipe for ultimate peacefulness.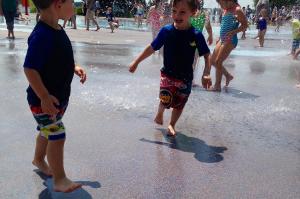 To keep the little ones, and yourself, entertained the Seneca Lake State Park  in Geneva features the Sprayground, the first of its kind built in the New York State Parks system with over 100 water jets spontaneously spraying water for hours of fun.
Onanda Beach & Park in the town of Gorham is located on the west side of Canandaigua Lake and and has all sorts of amenities, from cabins and hiking trails and picnic tables to basketball, tennis and playgrounds.  
On the east side of Canandaigua Lake in Canandaigua is Deep Run Beach, which is a great place to catch summer sunsets. 
Maybe you aren't a full-fledged swimmer but you want to cool off your feet. Then head to Grimes Glen Park in Naples, where you can walk to waterfalls through a refreshing creek bed. 
Beaches with sand or beaches with stone, no matter what kind you choose, you can bet on one thing – it will be a beautiful day in the fresh, clean waters of the Finger Lakes of New York!